Metal Shelving Queens. Quality Steel Shelving in Queens, Lowest Overall Cost, Stocked Locally, 5 Free Colors, Lifetime Warranty.  Professional Installations.  Quality shelving ideal for storage in Warehouses, Retail, Office, Logistics, Offices. LockersUSA with distribution centers in the Ditmars section of  Astoria Queens. Metal Shelving Queens also provides Complimentary layouts, Quick deliveries from a local distribution centers and Professional installations.  Our Metal Shelving is clip type, Easily adjusted with no nuts or bolts. Minimum weight capacity per shelf is 650 pounds per shelf, Evenly distributed. Backed with a Lifetime Warranty. Stocked in 5 standard brilliant colors at no additional charge.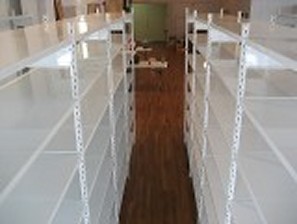 How to buy Metal Shelving. Shelving can be supplied with closed in back and side panels or Open shelving with back and side braces. The strength of the units is the same. Standard widths 30″, 36″ 42″ and 48″. Heights range from 5′ high to 24; high. standard depths of shelving is 12″, 15″, 18″, 24″, 30″ and 36″.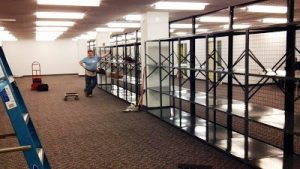 For wide runs consider bulk rack, Bulk rack is for hand loading boxes and inventory, Widths up to 12′ wide with weight capacities up to 1,789 pound distributed evenly. Bulk Rack can have solid metal shelves or wire deck.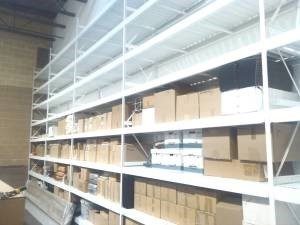 Bulk rack is a great cost saver compared to Pallet Rack, If your not using a fork lift to load the levels consider Bulk Rack its 40% less expensive.  LockersUSA also stocks Pallet Racking in Queens NY in New. Our inventory also includes wire decks and solid decks.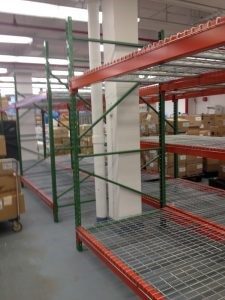 Metal Shelving Queens can be set up to your specific needs. Rods can be added to store product samples as shown below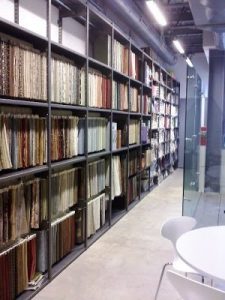 When space is at a premium, Adding drawers to your shelving units will double storage space. One unit of shelving with drawers holds the same as 4-5 units of open shelving. Drawers can be installed with drawer heights from 3: high to 12″ High. We can also install drawers in most shelving units you may now be using.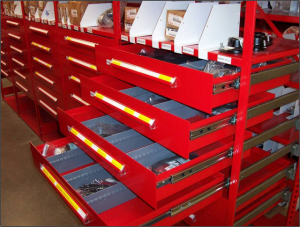 Contact us now for immediate assistance.  Sales@LockersUSA.com or give us a call. P(888) 963-5355. Our distribution centers are open 7:00 AM to 5PM Monday – Friday and Saturday 7AM – 1PM.
Metal Shelving Queens, Metal Shelving Queens NY, Metal Shelving Long Island City, Metal Shelving Astoria, Steel Shelving Queens NY, pallet racking Long Island City, Metal Shelving delivered daily to Queens, Long Island City, Astoria, Maspeth, Woodhaven, Flushing, College Point, Flushing, NYC, Brooklyn,