Folding Guard Tenant Storage Cages Astoria. 31st Street. Complimentary layouts, Lowest overall cost, Generates Good Revenue, Lifetime Warranty.  Est. 1909. The NYC Metro areas largest stocking Tenant Storage Cage Master Distributor and Factory Authorized Installer provides quick pricing and layouts six days a week. Stocked in rust resistant galvanized, Powder coat black & gray.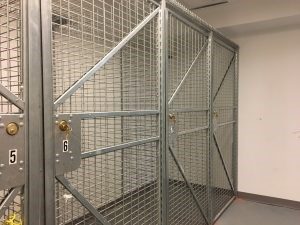 Folding Guard Tenant Storage Cages Astoria stocks single tier – walk-in and double tier – stacked. Both widely used in Queens. Manufactured with 4ga welded wire with is more than double the welded wire thickness of other makes, Providing added security at no extra cost. Lockers stocked from 3′ wide to 5′ wide x 3′ wide to 5′ deep x 7'h, 90″ high or 8′ high. Larger size tenant storage cages can easily be made cost effectively with our modular panel design. Each Tenant Storage Cage comes with full height anti-theft lock bars, Welded hasps or cylinder locks. Typically the tenant storage cages are directly attached to the room walls and floors. Tenant storage cages in the middle of the room come with backs in 4ga welded wire. Backs, Tops, floors, shelves can also be delivered with the cages.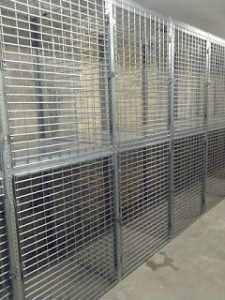 Folding Guard Tenant Storage Cages Astoria generates good revenue. In Queens developers,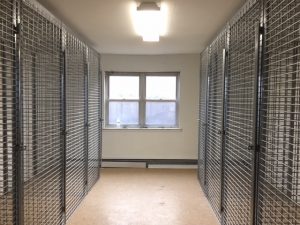 Landlords, Condo & Co-op boards now charge a monthly rental fee for onsite tenant storage ranging from $75.00 to $175.00 per month, Depending on the size. a residential building with 40 units renting out tenant storage cages for $85.00 per month on average will generate $40,800.00 per year in revenue. The Return on Investment (ROI) is quick, Averaging just 7-8 months.  Backed with the industries only lifetime warranty the tenant storage cages is a great investment. Our Techs provide complimentary layouts either online or onsite six days a week. Contact us today for immediate assistance. Complimentary Layout Form, Email Sales@LockersUSA.com or P(917)701-5795.
Folding Guard Tenant Storage Cages Astoria, Tenant Storage Cages Astoria Queens, Tenant Storage Lockers Queens, Folding Guard Tenant Storage Cages Long Island City, Stor-more tenant storage cages NYC, Folding Guard Tenant Storage Cages delivered daily to Astoria Queens, Long Island City, Woodside, Sunnyside, Jackson Heights, Brooklyn, Bronx, Queens, Staten Island, Bronx.