Dock – Door Access Cages NYC.  Prevent unauthorized guests from entering the building with Dock & Door Access cages NYC. We have all seen the news about Justin Casquejo the 19 year old kid gaining access to the 1 World Trade Center rooftop and again onto other NYC skyscrapers. The young dare devil will be dealt with more severely for the repeat offence. Hopefully his antics will be a wakeup call to all NYC buildings. Schools, Hotels, Office Buildings, Broadway Theatres and warehouses need to consider limiting access to employee and delivery entrance doors and docks. Most buildings have security at the side door entrance. They can be often distracted with deliveries, signing in guests, phone calls etc. Dock & Door Access Cages can help security from limiting access to unwanted guests.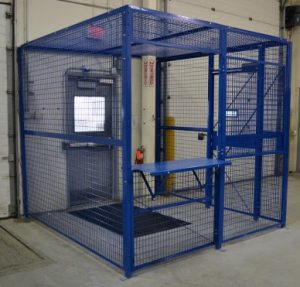 The above Space Guard access cage can prevent unwanted guests from roaming around the building. The cage can be equipped to notify security that a person is awaiting entrance, He can be questioned via telecom and let in by releasing the mag lock installed on the door, Remotely from securities station. The access cage can be sized based on your specific space allowances. Slide up windows with a counter can be installed to accept the  delivery without the person gaining access.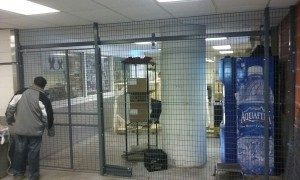 Larger access cages can be installed in hallways to limit unwanted guests and unauthorized employees from entering restricted areas. LockersUSA an Equiptall company is based in NYC.
Folding Gates can be used in doorways, hallways, garage doors, docks and store fronts to increase security.
Our inventory includes Security cages, Loss Prevention cages, Server and Data Room Cages Tenant Storage Lockers and Safety Fence. Contact us today for immediate onsite assistance or fill out the form on this link  and return. 
P(917) 701-5795 or Sales@LockersUSA.com
#DockCages NYC, #doorcages NYC, #FoldngGatesNYC, #SlidingGatesNYC, #hallwayGatesNYC, #storefrontGatesNYC, #LossPreventionNYC,
Dock cages NYC, Door Cages NYC, Folding Gates NYC, Driver Access Cages NYC, Sliding Gates NYC, Storefront Gates NYC, Hallway Folding Gates NYC. daily deliveries NYC, Brooklyn, Queens NY, Bronx, Staten Island, NJ. deliveries by zip code 10036, 10014, 10048, 10013, 10010, 10001, 10003, 10017, 10022, 10075, 10021, 10028, 10198, 10029, 10023, 10024, 10025, 10026, 10034, 10027, 10031, 10040, 10029, 10037, 10030, 1003, 10018, 11201, 11101, 11105, 11211, 11301, 07101.