Wire Partition Storage Cages NJ.  Stocked in New Jersey, Complimentary wire partition layouts. Buy local and save on today's costly freight rates. Proudly serving NJ since 1909. Wire Partition Cages can be used for various applications, From storing inventory, Creating perimeter access, Enclosing electrical equipment or moving machinery also known as machine guarding – Safety Fence and Driver Entrance Cages to prevent visitors from entering the facility without authorization. Our Team provides Complimentary Layouts six days a week. Either online or onsite. Please use the form in the link above or contact us for immediate assistance Phone (917) 701-5795.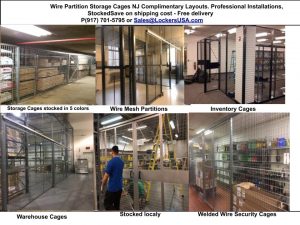 Wire Mesh Partition Cage doors range from 3′ wide to 12′ Wide in hinged doors, Either single hinged or double pair doors, Single slide doors or Bi-parting slide doors. Door heights range from 6′, 7′, 90″, 8′ and higher when needed. Door lock options include cylinder locks, welded hasp for padlocks, Programmable locks in card swipe, key fob, push button. We can also provide interchangeable cores to match your existing system. We can also prep your doors with interior push bars for hinged doors, Auto hydraulic door closers for either hinged or slide doors, Electric strike or Mag locks. Our specialist can assist either onsite or online with the most appropriate locking system for your specific application.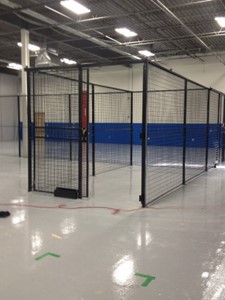 LockersUSA's New Jersey facility also stocks Tenant Storage Cages in Single Tier – Full height and Double tier – stacked doors in 48 standard sizes.
Manufactured with 4ga thick welded wire in Rust resistant galvanized, Medium gloss black and gray. Built to last, 4ga thick welded wire is more than double the thickness of 10ga. Providing increased security at the lowest overall cost with free daily deliveries.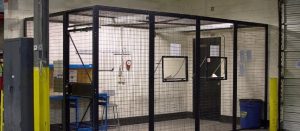 Wire Partition Storage Cages NJ is manufactured with 10ga thick woven wire. We also stock Framed welded wire partitions on 8ga and 4 ga thick. Contact us today for immediate assistance. Sales@LockersUSA.com or Phone (917) 701-5795.
Wire Partition Storage Cages NJ, Wire Mesh Partitions NJ, Security Cages NJ, Tenant Storage Cages NJ,