Wire Mesh Lockers NJ. Since 1909 NY & NJ Largest inventory, Complimentary Layouts, Quick Quotes and Delivery. Individually locked compartments, making them ideal for a variety of operations, especially where service employees need to pick up daily work orders and equipment. Available in single to triple front-and-back compartments and sizes: 90 different standard sizes ranging from 24″x 24″x79-1/2″ to 36″x36″x79-1/2."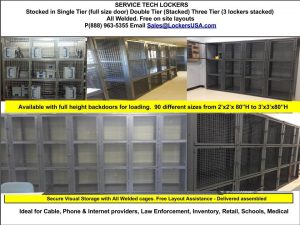 all welded framed wire mesh lockers with individual compartments and welded hasps so that service technicians can pick up the materials, equipment and or tools required to respond to their calls for the day. Ideal for Telephone, Cable, Internet providers, Retail, Loss Prevention,  Law Enforcement, Military, Manufacturing and Distribution.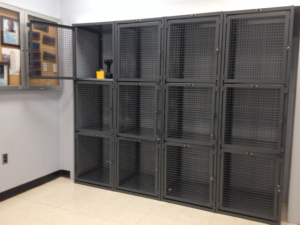 Manufactured with framed welded wire mesh, Wire mesh lockers can have optional full height rear doors for easy access to each compartment and inventory control. Each compartment comes with a welded hasp. Optional rear doors are available if materials will be loaded from behind lockers. If your loading employees daily work equipment and tools we can ship the lockers with optional rear access doors for quick loading and inventory control. Wire Mesh Lockers NJ can be delivered assembled ready to use. Complimentary Layouts.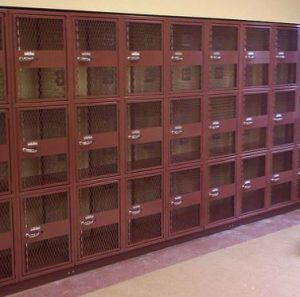 Material specifications:
Sides – 12ga 1″ x 1″ welded wire mesh welded into frames
Interior framing and door frames – 14ga 1-1/4″ x 1-1/4″ angle
Outer door frames – 14ga 1-1/2″ x 1 Welded Channel
Door – 12ga. 1'x1′ welded wire mesh into 14ga 1-1/4″ x 1-1/4″ angle frames with two steel butt hinges per door
LockersUSA also stocks steel lockers, Plastic Lockers, Wood Lockers in NY, NJ and Philadelphia. Lowest overall cost,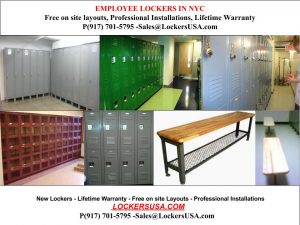 Lifetime warranty. Contact us today for immediate assistance. Sales@LockersUSA.com P(917) 701-5795 or Text (917)701-5795.
Wire Mesh Lockers NJ, Welded Wire lockers NJ, steel lockers NJ, Expanded metal lockers NJ, Wood Lockers NJ, Wire Mesh Lockers delivered daily to Newark, Elizabeth, Woodbridge, Paterson, Edison, Jersey City, Morristown, Carteret, Old Bridge, East Brunswick,  Robbinsville, Toms River, all of New Jersey