Wire Mesh Cages Marlboro NJ. Secure inventory and equipment with welded wire security cages. Proudly Serving Monmouth County for 133 years.  Manufactured with frame welded 8ga thick available in rust resistant galvanized, Grey, Black. Doors stocked in Hinged, Double Hinged Doors, Single Slide and Bi-Parting slide doors. Doors come with cylinder locks and keys or welded hasps for padlocks.  Security Cages can be built from 7′ high to 48′ high quickly with our modular stacking panels. Design to create cutouts around obstructions, IE: piping, HVAC, Etc. Our Techs provide Complimentary Storage Cage Layouts six days a week. Feel  free to use the quick form in the link or email us to schedule an onsite meeting or to send us your drawings.
Cages can be built with or without ceilings. Cost can be saved by attaching the cage to the rooms back and or side walls.  Cages can also have Locking window service doors with exterior counter for signing paperwork. Service window can save time and reduce the need to open doors.  Additionally doors can be self closing in either hinged and slide. Interior push bars can be installed on hinged doors at the plant. Contact us today for assistance. Sales@LockersUSA.com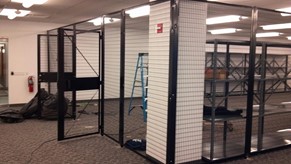 Our 190,000SF warehouse also stocks Lockers for Employees, Schools and Law Enforcement. From Single tier – full height to Double tier – Stacked doors and Box lockers (aka 6 tier) and Welded Wire Lockers.  Our complimentary layouts are code compliant within ADA guidelines.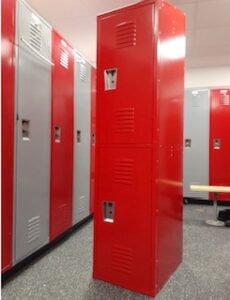 Locker Room Benches stocked in various widths with butcher block or steel benches. the bench legs will be the same color as the lockers.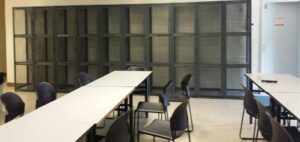 Our Welded Wire Lockers are ideal to secure equipment for service techs to store their parts needed for the day and equipment. Available in full height, double tier or triple tier in 24 standard sizes. Full height welded wire backs or full height doors can be installed on the backs of the lockers. The full height doors allow access to all lockers to load each locker quickly.  Contact us today for immediate assistance. P(917) 701-5795 or Sales@LockersUSA.com
Wire Mesh Cages delivered daily to Marlboro NJ 07746, Freehold, Middletown NJ 07748, Howell NJ, Lakewood NJ, Toms River,