Wall Mount Bike Racks Florida. Designed for today's bike rooms. Bikes can be stored 12″ apart when space is tight. Free layouts,  Easy to use, Locking. Generates Revenue, Free delivery in Florida. #42488 Wall mount bike brackets are manufactured with cushion coated powder coat steel in a powder coat, medium gloss black finish. Built to last, Our Sunshine State bike brackets also allow bikes to be locked onto the bracket. Attached to each #42488 bike bracket is a five foot long cushion coated security cable that can be wrapped around the bike frame and both rims then secured with the bike owners lock.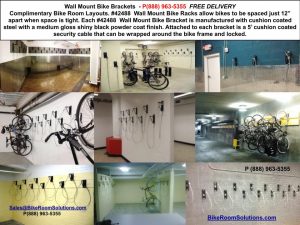 Our Florida stocking facility located in Daytona Beach provides Complimentary Bike Room Layouts. Along with the code compliant layout our bike techs include long term bike room set up tips to assist in creating a self manged – maintenance free bike room that is looks awesome and attracts potential residents.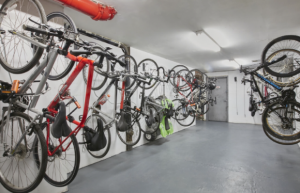 Additionally the bike room floor stays clear for safe easy passage in and out of the bike room. If the bike room walls are sheet rock, Our Bike Techs recommend adding plywood supports over the bike walls. 22″ high x 2″ thick. Prior to installing #42488 bike brackets consider painting the bike walls in a matte or semi gloss finish for easy removal of dirt marks with a wet cloth.  As mentioned if the bike room space is tight, Space the bike brackets on 12″ centers.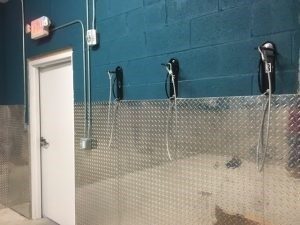 We suggest alternating the bike bracket heights 64″ an 74″ from the cushioned bike hooks to the floor so the handlebars stay clear of other handlebars. If the bike room is initially spacious we suggest spacing the bike brackets on 24″centers all at 64″ from the cushioned bike hook to the floor. Then when more bike brackets are needed install them in between the existing brackets all at 74″ from the cushioned bike hook to the floor. The layouts suggested have worked well in hundreds of bike rooms Nationwide. Free daily deliveries from our facilities in Daytona Beach, New York City and Chicago.
Our Daytona Beach on N Nova Road facility is open Monday through Friday 7AM to 5PM and Saturdays 7AM – 3PM. Email: Sales@BikeRoomSolutions.com or (888) 963-5355. We ship Free daily to all Florida Locations.
Wall Mount Bike Racks Florida, Wall Mount Bike Brackets Florida, Wall Mount Bike Racks shipped daily to Miami, Tampa-St Petersburg, Orlando, Jacksonville, Sarasota – Bradentown,Port St Lucie, Port Orange, Kissimmee, Fort Lauderdale, Bonita Springs, Lakeland, Tallahassee, Winter Haven, Florida.