Wall Mount Bike Brackets NYC. Space Saving, Easy to use. Free Layouts, Lifetime Warranty. Today's NYC Bike Rooms need to be easy to use, Space Efficient and designed for future growth. #42488 Wall Mount Bike Brackets have been designed to allow bikes to be stored just 12″ apart. Ideal for worry free – long term bike storage.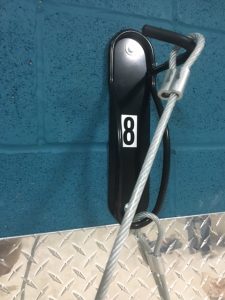 Made with all welded steel with a durable shiny black powder coat finish. Each of our brackets has a 5′ long cushion coated security cable that can be wrapped around the bike frame, Both rims and secured with the bike owners lock.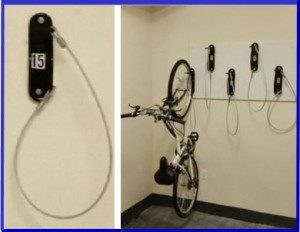 Manufactured for long term use in Residential Buildings, Office Buildings, Parking Garages, anywhere optimum bike storage is needed.  Our Bike Storage team provides complimentary bike room layouts, Management tips on assigning bike room spots, Revenue guidelines when renting bike spaces. #42488 wall mount bike brackets provide maximum storage while keeping the floor clear for easy passage. Back with the industries only lifetime warranty.
Our BikeNicians provide miles of free bike room set up suggestions so the room only need to be swept out when needed. If the bike room walls are sheet rock (gypsum) we recommend adding plywood supports behind the bike brackets for long term anchoring.

Then paint the walls in a matt or semi gloss finish for easy removal with a wet rag of dirt marks.  We set up bike rooms by centering each bike bracket 12″ then we alternate the heights 66″ & 76″. This layout has work well in hundreds of bike rooms. Of course if your bike room has plenty of space the bike brackets can be installed every 24″ at 66″ high. Our bike techs are happy to provide assistance with a complimentary bike room layout.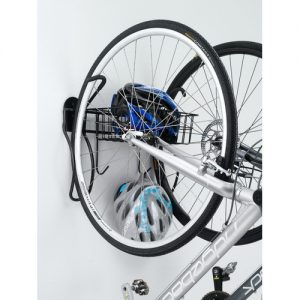 Shown above,We also stock wall mount bike brackets with a basket for helmets #BB1888 comes with 2 bike brackets and wire basket in the middle. Optional security cables can also be attached by our staff.
Contact us today for immediate assistance. Sales@LockersUSA.com or P(917) 837-0032. Our team provides complimentary layouts in NYC, Queens, Brooklyn, Bronx, Harlem, Westchester and NJ.
Wall Mount Bike Brackets NYC