Used Shelving NJ.  Conveniently located in Central New Jersey. 109,000SF warehouse stocks Used and New Shelving, Pallet Rack, Lockers,  Workbenches, Security Cages, Modular Cabinets. Open six days a week. Proudly Serving NY & NJ since 1909. Contact us today via email with your needs Sales@LockersUSA.com Our Team provides Complimentary Layouts, Professional Installations.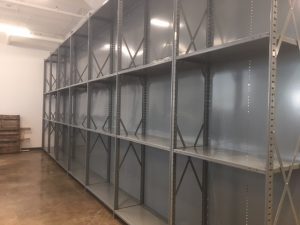 We only stock industrial quality steel shelving in used and new. Weight capacities from 450#;s to 650#'s Shelving units stocked with closed in back and side panels as shown above and open shelving with cross braces On request we can provide heavy duty capacity shelving above 650 pounds. Used Steel Shelving NJ only stocks clip type, easily adjustable shelving with no nuts or bolts to deal with.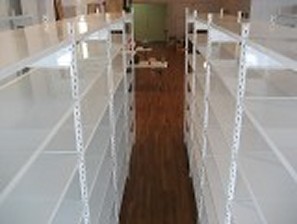 New and Used Shelving, Rack and Lockers delivered daily throughout NJ, NYC, Brooklyn, Queens, Staten Island, Bronx, Westchester and Long Island.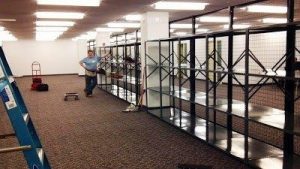 Used or New Pallet Rack can be supplied with or without wire decks or steel metal decks that sit into the pallet rack beams with front to back supports.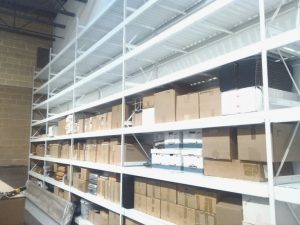 Our 109,000Sf facility also has Used and New Lockers, Assembled in various colors. Lockers stocked in single tier – full height Double Tier and up to six tier – box lockers. Lockers stocked in gray,  blue and red. Either combination padlocks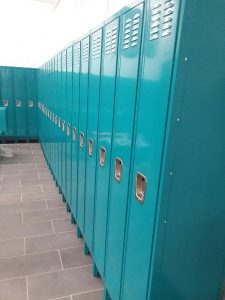 or builtin combination locks can be added to your new or used locker. The combination locks come with control charts that let you change the combination number as employees leave. Master Keys can also be supplied for management.
Contact us today for immediate assistance. Our office is open six days a week 7AM to 7PM. Sales@LockersUSA.com
Used Shelving NJ, Used Pallet Rack NJ, Used Steel Shelving New Jersey, Used Pallet Racking NJ, Used Pallet Rack Beams NJ. Used Steel Lockers NJ, Used Steel Lockers NYC, Used Lockers NYC, Used Shelving delivered daily to New Jersey, Brooklyn, Long Island, Staten Island, Queens NY, Bronx.