Tenant Storage Cages Toms River. Complimentary Layouts, Lowest Overall cost, Stocked locally. Generates Good Revenue. Lifetime Warranty. Stocked in 4ga steel in durable galvanized and 5 powder coat colors. 4ga is double the welded wire thickness of all brands. Based on purchasing power the more secure 4ga welded wire tenant storage cages now cost less than thinner gauge 8, 10 or 12ga units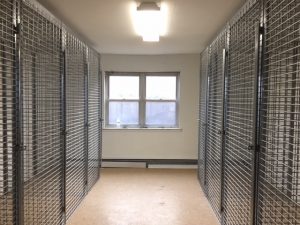 Tenant Storage Cages Toms River arrive with full height anti-theft lock bars, Welded hasps for padlocks or Cylinder locks. Cylinder locks and padlocks can be delivered keyed different or keyed different with master keys. Doors stocked in Toms River 3′ wide and 4′ wide x 7'High or 90″ high.  P(917) 701-5795.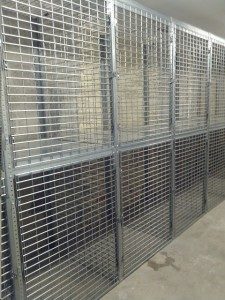 How to order Tenant Storage Cages. Standard tenant storage cages are manufactured in single tier – walk in and Double Tier Stacked. Each row begins with a starter unit that has 1 door and two sides. The rest of the row is completed with add on units that have 1 door and one side and attaches to the common side wall of the cage next to it. Common sides save space, Stronger and cost effective. Typically installed directly to the rooms walls and floors. Rows in the middle of the room comes with backs as standards. Additional backs, tops, floors and shelves can be installed as options.  Tenant Storage Cages Toms River provides complimentary layouts, Code Compliant, Space saving and user friendly.
Tenant Storage Cages Generates good revenue. Today most developers, landlords, apartments and Condo boards charge a monthly rental fee for on site storage ranging from $65.00 to $125.00 per month depending on the size. A tenant storage room with 60 cages renting out on average for $75.00 per month will generate $75,000.00 per year in revenue. The tenant storage cages pay for themselves within 6-7 months on average. Combined with our industries only lifetime warranty its a great investment.
LockersUSA also stocks locally security cages, Machine Guarding Cages, DEA Cages, Server and Data Room Cages. Contact us today for immediate assistance.
Tenant Storage Cages Toms River, Tenant Storage Lockers Toms River NJ, Security Cages Toms River, Server Cages Toms River, Data Room Cages Toms River. Tenant Storage Cages delivered daily to Toms River, Manchester, Brick Twp, Lakewood, Lakehurst, Trenton, Asbury Park, Berkeley Twp, Lacey Twp, Ocean Twp, Barnegat, Stafford Twp, all of New Jersey.