Tenant Storage Cages NYC. Generates excellent Revenue. Free Layouts, Lowest overall cost. Lifetime warranty. LockersUSA located in Manhattan provides complimentary code compliant, Space saving layouts. Tenant Storage cages installed in residential buildings in New York City generate good revenue. Rental rates in 2017 range from $125.00 to $250.00 per month. A building with 60 tenant storage cages renting out at $125.00 per month would generate $90,000.00 per year in maintenance free revenue. They would pay for themselves (ROI) within 8-9 months on average.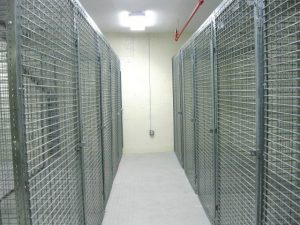 Manufactured with 4ga welded wire, Which is double the wire thickness of other brands. In durable galvanized steel or 5 standard powder coat colors. Each tenant storage cage comes standard with the industries only full height lock bar for added security. Supplied with welded hasps or cylinder locks. Tenant Storage cages have two standard types Single tier – walk in or double tier stacked. Both very popular in the 5 Boroughs. It really depends on the available space in the tenant storage room and the number of residents they would like on site storage. Most buildings today order some of each type after reviewing the needs of residents.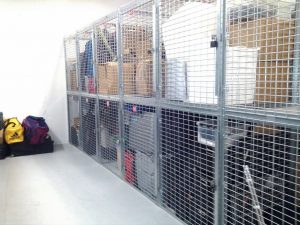 When shopping for Tenant Storage here are some tips on how to get the best deal for your building. Obviously price is a top priority, Ask about warranty. Good companies with quality products offer lifetime warranty on teh cages and installations. Check the welded wire gauge. 4GA is the thickest in the industry 10ga is the thinnest. Normally you can buy 4ga welded wire cage for less than 10ga based on manufacturing upgrades with robotics and the high volume stocked.

Shop local you will save on the high cost of freight from shipping nearly 1000 miles away. Local distributors are normally less expensive the out of the area suppliers. Plus they are hands on. Willing to visit, field measure, Have their own experienced installers and know the codes to be compliant.
LockersUSA main office is located in Yorkville in Manhattan, We have warehouses in NYC, Brooklyn and Queens. Please contact us today for immediate assistance. Sales@LockersUSA.com or P(917)837-0032.
Tenant Storage Cages NYC, Tenant Storage Lockers NYC, Apartment Building Storage Lockers NYC, Residential storage cages lockers NYC, Folding Guard Tenant Storage Lockers NYC, Wire mesh storage lockers cages NYC. Tenant Storage Cages delivered daily to NYC, Brooklyn, Queens, Bronx, Staten Island, Westchester.