Tenant Storage Cages E 125th St. Harlem.  Complimentary Layouts, Lowest overall cost, Lifetime Warranty. Generates Good Revenue. Free deliveries. LockersUSA.com has the largest tenant storage cage inventory in New York City. Call us P(917) 701-5795. Our office is open M-F 7AM – 5PM and Saturdays to 4PM.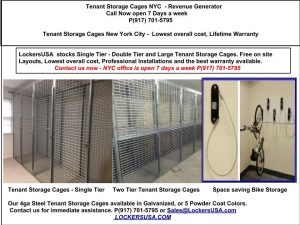 Stocked in single tier – full height doors and double tier – stacked doors. Both types are widely used in the five boroughs. Manufactured with 4ga welded wire which is more than double the thickness of 10ga. Each door has full height anti-theft lock bars and  welded hasp for padlocks or cylinder lock. Lockers stocked from 3'w to 5'wide up to 5′ deep. Standard height is 90″ Larger size tenant storage lockers can easily be assembled with our modular stacking panels to the width, depth and height needed. Standard doors stocked in Harlem 3′ wide and 4′ wide, Hinged. Tenant storage cage doors should swing our towards the exit door.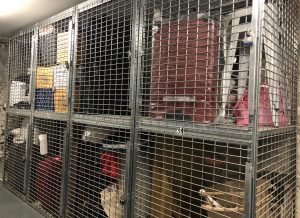 Tenant Storage Cages E 125th St generate good revenue. In Harlem, We have hundreds of tenant storage cages in use that are being rented our from $75.00 per month to over $125.00 depending on the size. Basements with 40 cages renting out for $100.00 per month will generate $48,000 per year in revenue. The ROI (return on investment) typically is 7-8 months.
LockersUSA Techs provide Complimentary Layouts six days a week. Contact us today for immediate assistance. Fee free to use the form in the link above or email us for immediate assistance. Sales@LockersUSA.com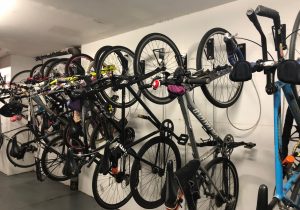 LockersUSA.com also stocks in NYC Wall Mount Bike Brackets designed to allow bikes to be spaced just 12″ apart when space it tight. Manufactured with cushion coated steel with a shiny black, medium gloss powder coat finish. Attached to each #42488 Wall Mount Bike Rack is a five foot long cushion coated security cable that can be wrapped around the bike frame and rim, Then secured with the bike owners lock. #42488 Bike Brackets typically increase bike storage capacity by 50%. Contact us today for a Bike Room and or Tenant Storage cage layout.
Tenant Storage Cages E 125th St, Tenant Storage Cages Harlem 10035, Tenant Storage Cages NYC 10029, Tenant Storage Cages New York City, Wall Mount Bike Racks Harlem 10026, Tenant Storage cages delivered free in Harlem to zip codes 10026, 1–27, 10030, 10037, 10039, 10029, 10035.