Tenant Storage Cages Astoria NY. Est. 1909. Stocked in Astoria. Complementary Layouts, Generates Revenue, Professional Installations, Free delivery.  Built to last Manufactured with 4ga welded wire in Rust resistant galvanized, Grey and Medium Gloss Black. 4ga thick welded wire is more than double the wire thickness of 10ga. Providing increased security for less thanks to Robotics. Doors stocked locally 3′ wide and 4′ wide in hinged with welded hasps for padlocks or cylinder locks. Tenant Storage Cages industry wide are provided
in Single Tier – Full height doors and Double tier – stacked doors. Both types are extremely popular in the 5 Boroughs. Tenant Storage Lockers are provided in Starter Units and Add-on units. Starter units have 2 cage sides and a door. Add-on units have one cage side and one door. Each row begins with a starter unit. The rest of the row is filled with add-on units and attached with common sides.  Most residential buildings have the cages installed directly to the rooms existing walls and floors. Tops, Backs, Floors and Shelves can also be included.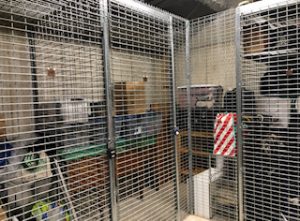 LockersUSA.com a manufacturer and master distributor of Bike Racks and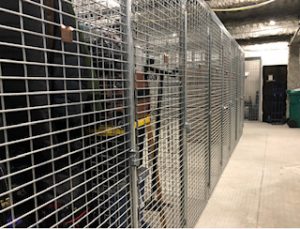 Tenant Storage Cages provides Complementary Tenant Storage Cage Layouts daily from our Astoria facility located in the Ditmars area of Astoria. Layouts can be provided online by using the form in the above link or onsite. Email us for immediate assistance. Sales@LockersUSA.com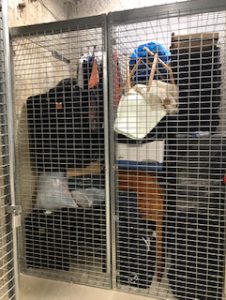 Tenant Storage Cages Astoria NY generate good revenue. Most developers, landlords, condo, co-op boards and apartment buildings charge a monthly rental fee for storage cages ranging from $65.00 to $150.00 per month depending on the size. Residential buildings with 50 tenant storage cages renting out at $75.00 per month on average will generate $45,000.00 per year in revenue. The Tenant Storage Lockers will pay for themselves in 7-8 months (ROI).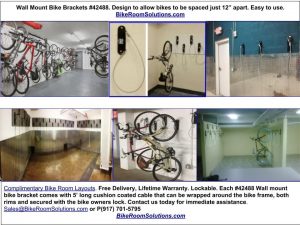 Also stocked in Astoria #42488 Wall Mount Bike Brackets. Designed to maximize bike rooms, While being easy to use and keeping the floor totally clear. #42488 wall mount bike brackets unique design allows them to be spaced on 12″ centers when space is tight. We alternate the heights of the brackets 64″ and 74″ so the handlebars stay clear of other bikes. If the bike room is initially spacious we suggest spacing #42488 bike brackets on 24″ centers and all brackets 74″ from the cushioned bike hook to the floor. Then when additional bike brackets are needed install those in between the existing bike brackets on 24″ centers. Our bike techs in Astoria provide complementary bike room layouts daily. Contact us today for immediate assistance. P(917) 701-5795
Tenant Storage Cages Astoria NY 11105, Tenant Storage Lockers Astoria Queens, Tenant Storage Cages Astoria Queens, Tenant Storage Cages Long Island City 11101, Tenant Storage Cages Woodside NY, Tenant Storage Cages Jackson Heights, Tenant Storage Cages Elmhurst, Tenant Storage Cages Corona Queens. Wall Mount Bike brackets Astoria Queens 11105, Wall Mount Bike Racks Astoria Queens 11105.