Storage Cages Long Island City. Generates Excellent Revenue, Welded Wire  Cages stocked in LIC. Free On-site Layouts, Next Day delivery, Lowest overall cost, Lifetime Warranty.  LockersUSA stocks Tenant Storage Cages, Inventory Cages, Security Cages, DEA Pharmaceutical Cages and Wire Partitions stocked locally. Our Storage Cage Specialist provide on site complimentary layouts six days a week.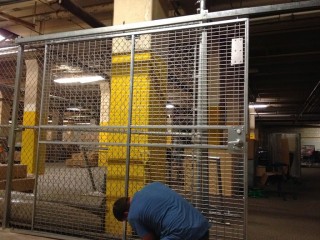 Built to last with the industries lowest overall cost and Lifetime warranty. Our storage cages can be delivered with hinged or slide doors with welded hasps for padlocks or cylinder locks. Mag Locks, Push button locks, Card Swipe Locks, Keyfob and bio metric can be added at wholesale costs.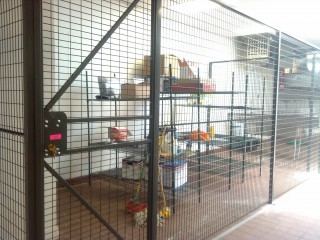 Our cages are made in 4GA, 6GA, 8GA and 10GA welded wire in durable galvanized steel or 5 standard powder cost colors. Tenant Storage Cages from LockersUSA Generate the highest revenue for developers, landlords Co-op and Condo Boards. In Long Island City Tenant Storage Cages are rented out to residents from $100.00 to $325.00 depending on the size.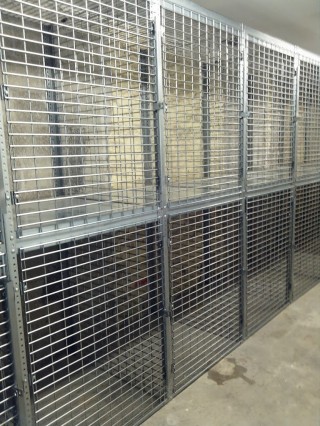 If the building installs and rents our 30 tenant storage cages at just $125.00 per month, The Tenant Storage Cages will generate $45,000.00 per year in revenue. They will pay for themselves in less than 9 months.
Each of our tenant storage cages is manufactured with 4GA galvanized steel or 5 standard powder coat colors. 4GA welded wire tenant storage cages is twice as thick as other makes on the market. Providing added security at no additional cost.

Welded to every one of our tenant storage cages is a full height Anti-Theft Lock bars. Welded Wire Security Cages required no additional sprinklers, lighting or Temperature  controls. The tops tenant storage cages are also made with welded wire so that sprinklers can cover the inside of the tenant storage cages well.
Safety Cages are widely used in Long Island City to enclose equipment and create perimeters to protect workers. Available in heights starting from 6′ high and up. Doors stock in hinged and sliding.
Contact us today for immediate assistance. Our Long Island City facility is open Monday through Friday 7AM to 5PM and Saturdays from 8AM until 1PM. Sales@LockersUSA.com or P(917) 701-5795.
Storage Cages Long Island City, Tenant Storage Cages Long Island City, Security Cages Long Island City, Tenant Storage Bins Long Island City, Loss Prevention Cages Long Island City, DEA Pharmaceutical Cages Long Island City, Wire Partition Cages Long Island City, Server cages Long Island City, Data Room Cages Long Island City, Inventory Cages Long Island City. Storage Cages delivered daily to Long Island City, Astoria, Woodside, Woodhaven, Jackson Heights, Flushing, Whitestone, Jamaica, Sunnyside, Elmhurst, Rego Park, Middle Village, Ridgewood, Maspeth, Forest Hills, Kew Gardens, Queens NY.