Steel Folding Gates Bronx 10458. LockersUSA stocks steel folding gates and window gates. Free on site layouts, Professional installations, Lowest overall cost, All of our folding steel gates are US made, Over 1000 in stock. We also stock Security Cages  and hinged or sliding welded wire doors in woven welded wire partitions, welded wire and expanded metal in most colors and galvanized. Available with welded hasp for padlocks or steel encased cylinder locks.
 We take the stress out of ordering the exact Steel Folding Gates in Bronx that you need. Just let us know the width and height of the gate needed and we will do the rest. Our office is open 6 days a week 6AM-6PM. P(917) 701-5795 or email us sales@LockersUSA.com
From docks, warehouse and receiving doors, to busy hallways and
entryways, secure any space without sacrificing security, visibility or air
circulation. Gates up to 24′ wide are stocked; larger sizes are
available with a quick turnaround. Gates can be installed virtually anywhere, including inside or outside door jambs, between posts or bollards, attached to pallet racks, walls and even windows! Call us today for immediate assistance P(917) 701-5795.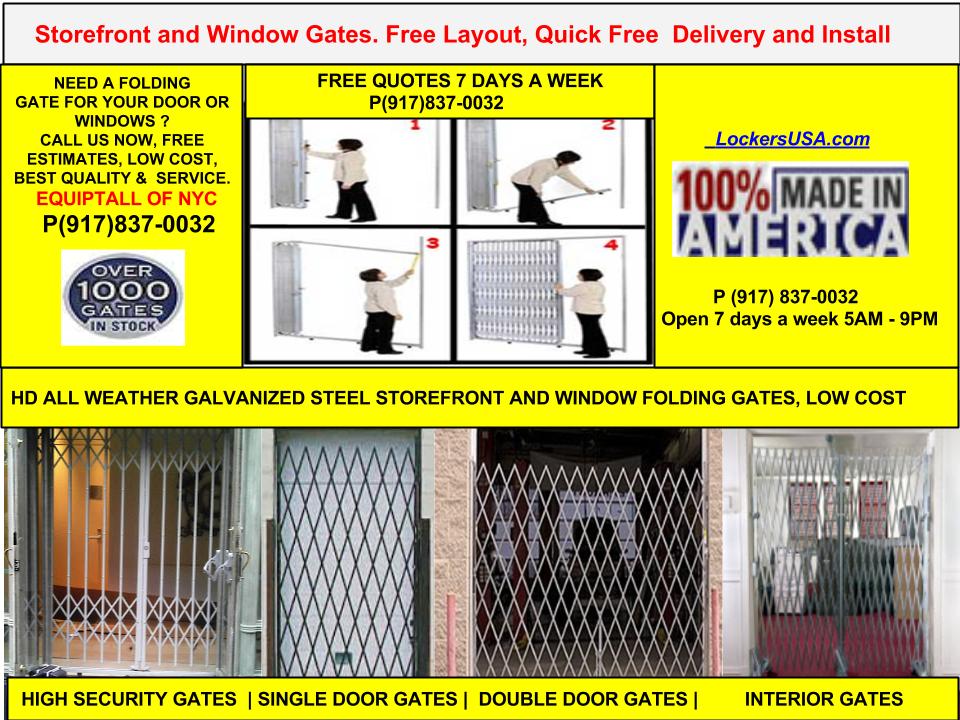 LockersUSA 120,000 square foot warehouse  of NYC stocks and installs sizes from 48″W to 60″ wide in single gates and Double gated that meet in the middle with drop pins and top anchoring from 6′ wide to 16′ wide. Heights on double gates and custom gates can reach 12′ high. Gates can be provided in a black enamel paint or our galvanized steel folding gates which are 10 times stronger and last twice as long. Proudly serving the five Boroughs since 1909. Contact us today for immediate assistance. LockersUSA.com Steel Folding Gates. P(917) 701-5795
Steel Folding Gates Bronx NY 10458, Folding Gates NYC, Door front folding Gates NYC, store front gates NYC,