Security Cages NYC . Complimentary Layouts, FREE DELIVERY, Professional Installations. Proudly Serving NYC since 1909. Wire mesh security cages stocked in New York City. LockersUSA based in Manhattan provides security cages built to last. Backed with the industries only lifetime warranty and lowest overall cost. Stocked in 8ga welded wire, 10 gage in welded wire, woven wire partitions and expanded metal. LockersUSA stocks doors in hinged and sliding 3'wide, 4′ wide, 6′ wide and 12′ wide sliding doors with steel encased cylinder locks, Interchangeable cores, Push button locks, card wipe and biometric.  Our modular design allows us to reach most heights required. The system is designed to be field modify around piping and beams without creating costly custom installations.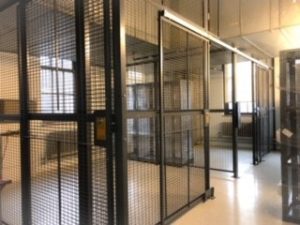 Our specialists provide complimentary layouts that will help you stay code compliant, space saving at the lowest overall cost. Our NYC inventory includes security cages, Tenant Storage Cages, DEA Pharmaceutical cages, Data Room Cages, Colocation Cages, Loss Prevention cages, Driver access cages, Robotic and Equipment caging.  Cost can be saved by using common back or side walls to create a 4 sided enclosure. Cages can reach ceilings or have security cage ceilings added to the system.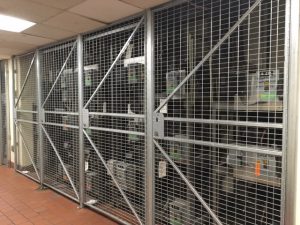 Our cage specialists provide complimentary layouts in the 5 boroughs and our trucks deliver daily to Manhattan, Bronx, Brooklyn, Queens, Staten Island, Westchester and New Jersey. P(917) 701-5795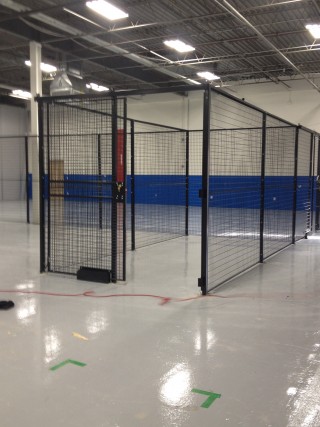 Security cages stocked in galvanized, powder coat black, gray, blue. Other colors available with a longer lead time. If your adding onto an existing security cage system or need repairs.Contact is today for immediate assistance, Our office and shop is open 6 days a week. P(917) 701-5795 or Sales@LockersUSA.com
Security Cages NYC. Security Cages New York City, Wire Partition Cages NYC, Wire Mesh Partitions NYC, Security Cages delivered daily to NYC, New York City, Brooklyn, Queens, Bronx, Staten Island and New Jersey.