Security Cages Eatontown NJ. Welded wire security cages stocked in Eatontown.  LockersUSA stocks security cages in Eatontown. Ideal for Business, Warehouse, Retail, Medical, Schools and Law Enforcement.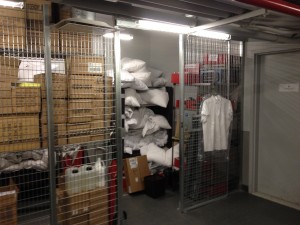 Our security cages are ideal to secure inventory, creating perimeter
barriers, Tenant Storage, Liquor and drygoods cages, DEA Pharmaceutical cages, Warehouse driver entrances, Network Server cages, Colocation cages, Telecom cages, equipment guarding and window guards. Our inventory has all welded rectangular grid patterns in 1-1/2″ x 3″ and 1″ x 1″ square welded grids. Welded wire cages come in 6 standard colors and galvanized.  LockersUSA provides complimentary on site layouts in Eatontown and surrounding areas, Professional installations, Lifetime warranties at the lowest overall cost.  Our welded wire cages are stocked in 8ga welded wire and 10ga. We srock in Eatontown hinged and sliding doors from 4′ wide to 12′ wide double hinged or sliding doors. Standard steel encased cylinder locks or we can provide locks with card swipe, push button, key pods. Contact us today for immediate assistance or a complimentary on site layout. Our office is open Monday – Friday 7AM-5PM and Saturdays until 1PM. P(917) 701-5795 or Sales@LockersUSA.com .
Security Cages Eatontown NJ 07724, Welded Wire Security Cages Eatontown, Wire Partition Cages Eatontown, DEA Cages New Jersey.