Security Cages East Brunswick. Welded wire security cages stocked locally. Ideal for securing inventory or to Create cage perimeter to prevent unauthorized access. Manufactured with framed welded wire steel with all welded grid openings in 8ga or 10ga thick welded wire. Security cages are built with panels and 2″ x 2″ x 1/4″ thick x the height needed universal posts with 2″ x 6″ welded foot plates. Doors stocked from 3′ wide to 12′ wide in single hinged, double hinged, single slide and bi-parting double slides. With cylinder locks.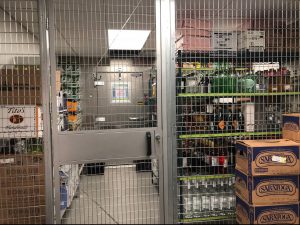 Additional locking options include push button, card swipe, key fob, Magnetic Locks, Electric strikes. Interior push bars can be factory installed on request and self closing hydraulic door closers available for sliding doors. Storage cage cost can be reduced by using the rooms back and or side walls as part of the enclosure. Most cage requests are 8′ high. Our prefab modular cage panels allow for quick installations to 48′ high. Ceilings can also be included with the delivery.
LockersUSA's 109,000Sf facility also includes Data Room – Server cages, Tenant Storage Cages, Machine Guarding Safety Fence for conveyors and moving machinery or equipment, , Welded wire lockers, and Employee Lockers. Our Local office provides Complimentary Layouts either online or onsite. Feel free to use the link above or contact us for immediate assistance. Sales@LockersUSA.com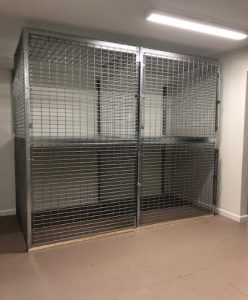 Bulk Storage Lockers are ideal for securing inventory. Stocked in single tier – full height and double tier – stacked doors. Stocked in our New Jersey facility in 24 standard sizes. Door have full height anti-theft lock bars and welded hasps for padlocks. Cylinder locks with 2 keys. Keys can be keyed different with a master key for management or keyed alike. Bulk storage cages can include tops, backs, shelves and floors on request. Normally most order bulk storage cages and attach them directly to the rooms walls and floors.
Due to the pandemic Recently building owners in NYC with vacant retail or office space have started renting out storage space to tenants or near by buildings and contractors that work in their building often. Bulk storage lockers and storage cages generate good revenue.  Monthly rental rates range from $75.00 to $350.00 per month depending on the size. a building renting out 10 cages at $100.00 per month on average will generate $12,000.00 per year in revenue. The ROI average just 7-8 months. Contact us today for immediate assistance. Sales@LockersUSA.com
Security Cages delivered free to East Brunswick, Old Bridge, Spotswood, Marlboro 07746, Manalapan, South River, North Brunswick, Aberdeen, Monroe Twp, New Jersey.