Raw Steel Shelving Brooklyn. Old World Brooklyn look, Industrial shelving in raw steel stocked in Brooklyn. Easy to assemble clip type construction. Weight capacity per shelf 650lbs. Stocked 3′ wide & 4'W x 12″ deep, 18″ deep and 24″ deep. Heights up to 12′ high. Ideal for offices, showrooms, back rooms and warehouses. Capture the look of Old World Brooklyn in your, Office, Home, Show Room or Warehouse.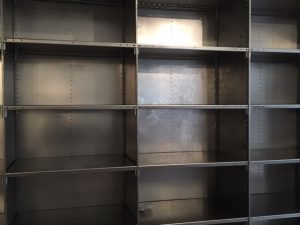 Call us now to review or office and shop is open Monday through Friday 7AM – 6PM P(917) 837-0032 or mailto:Sales@LockersUSA.com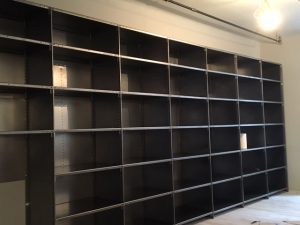 Raw Steel shelving is available with or without backs and sides.
LockersUSA.com also stocks shelving and rack in several eye catching colors. painted in a durable powder cost finish. Unpainted or powder coat pallet rack is stocked in NYC up to 16′ high x 12′ long in 36″ deep, 48″ deep. x 6′ wide, 8′ wide, 10′ wide and 12′ wide. with or without steel or welded wire decks.  a clear mat finish can be applied to the rack or shelving to prevent rusting, Customers who buy raw steel shelving enjoy the look tremendously. Contact us today for a free layout and quote. mailto:Sales@LockersUSA.com or give us a call P(917) 837-0032
Raw Steel shelving is a very unique look. If your looking for an Old New York look your office or showroom give us a call today. P(917) 837-0032
LockersUSA in Brooklyn stocks bright white, Blue, Red shelving and rack in all standard sizes. Brilliant colored shelving or raw steel shelving enhances the look of any office or showroom. Each year a new hot color trend comes to NYC, Our Shelving, Rack, File cabinets and work bench and desk sets come in8 popular powder coat colors.  Contact is today for immediate assistance. Sales@LockersUSA.com
Raw Steel Shelving Brooklyn, Raw unpainted steel shelving Brooklyn.