Barriers Protection Workspaces NYC. Protect Frontline workers with Shatter Proof, Durable Barriers, Chrystal Clear Barriers. Built to last, Framed, In stock for immediate delivery. Ideal for reception desks, Pick up counters, Service areas, Law Enforcement, Medical, Transaction Counters, Security Desks, Hotels, Grocery and Retail Stores. Stocked locally, Quick delivery while supply lasts.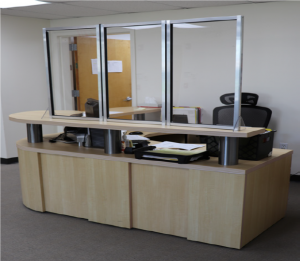 Our Barrier Protection specialist provide Complimentary Layout assistance 7 days a week. Quotes and Free delivery email us for immediate assistance Sales@LockersUSA.com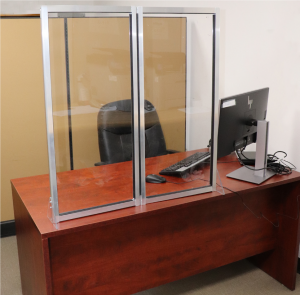 Easily Installed, Can be safely used almost anywhere including: Offices, Medical, Front Desk, Law Enforcement, Manufacturing, Distribution Centers. Framed modular Lexan panels provide stable, Shatter proof, Chrystal Clear barriers.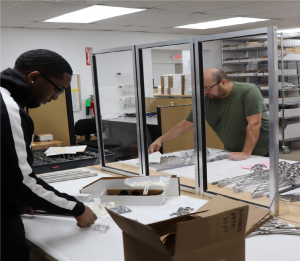 The Flexbar PANELGUARD JUNIOR™ basic starter system has two modular panels, each 16″W x 36″H which are connected by a flexible hinge and opens 34″ across. The simple construction conforms to fit both straight and angled setup configurations. Each panel has crystal clear high impact
resistant LEXAN®, which gives employees protection while still being able to see and work comfortably. Add single or double panels to expand the system to your desired workspace.
Easily expandable to larger 3-Panel systems or more. Order as many of the 1-Panel expansions necessary to quickly make a barrier as large as you need.
Flexbar's New Panelguard Junior™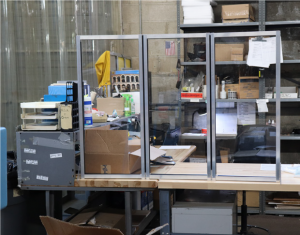 For the Office:
•Creates safe, sturdy barriers between employees
•Freestanding design – No installation required
•Easily cleaned and disinfected
•Easily reposition wherever shielding is needed
•Quick and easy assembly with included stabilizer feet kit
•Made in the USA
For the Shop:
•Perimeter guarding
•Temporary or Permanent guarding
Model No. 13025, Panelguard Junior basic 2-Panel set complete with stabilizer feet kit. Shipping weight 12lbs.
Model No. 13026, Panelguard Junior 1-Panel expansion kit with slide in flexible hinge.
Accessories:
Model No. 13038, Top Cap for stabilizing Panelguard in straight panel configuration
Model No. 13030, Pair of Replacement Stabilizer Feet
Model No. 13037, Extra Slide-In Flexible Hinge
Contact us today for immediate assistance. Our office is open for  Frontline Essential 7 days a week. Sales@LockersUSA.com or P(917) 701-5795
Plexiglass Barriers NYC, Countertop plexiglass Sneeze guards NYC, Plexiglass Barriers desks NYC, Plexiglass barriers Hospitals NYC, Plexiglass barriers Countertops NYC, Lexan Barriers NYC. Plexiglass Barriers delivered Free to New York City, Staten Island, Bronx, Queens NY, Brooklyn NY. New York