Pallet Rack Enclosure Cages NJ. Enclose Pallet Rack with Welded Wire Panels and Doors. Free Layouts,  48hr deliveries in NJ and NYC. Manufactured with Framed 8ga welded wire mesh. Durable, Built to last. Professional Installations. Doors can be full height or per level. Stocked in our New Jersey, Long Island City and Williamsburg Brooklyn locations. Free on site layouts.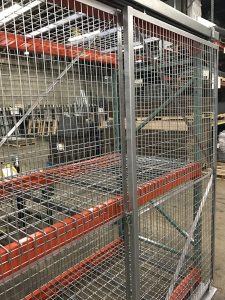 Depending on the width or the rack. Door can be either hinged or Sliding/ Our Racking Specialists can help you specify the best, lowest cost system for your rack. Call us now for assistance. We are open P(917) 837-0032.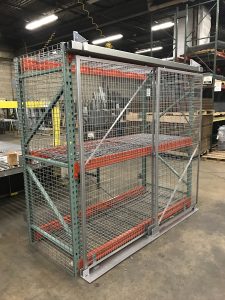 Doors can be installed on each rack level as shown below. Welded hasps on each door for secure storage. Free onsite layouts in the NYC Metro areas. P(917) 837-0032 or mailto:Sales@LockersUSA.com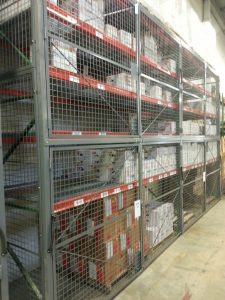 Our Racking Specialists also install Loss prevention cages and lockers. Stocked in New Jersey and Long Island City. Available for immediate delivery 7 days a week. mailto:Sales@LockersUSA.com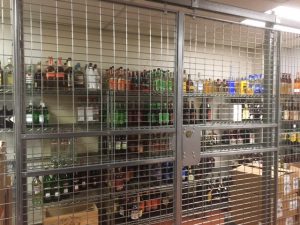 Manufactured with 8ga Galvanized steel with all welded framed panels. Doors stocked in Hinged and sliding and double dutch doors. Heights from 5′ High to 24'High with ceilings or without. Save on costs by attaching to existing back and side walls. Each door can have welded hasps, Cylinder locks, Key fob, Card swipe or Push Button locking systems. Mag Locks and Push bars can be added to your doors.
LockersUSA.com is open Monday through Friday 7AM – 5PM and Saturdays from 7AM to 1PM contact us now for immediate assistance. P(917) 837-0032 or Sales@LockersUSA.com
Pallet Rack Enclosure Cages NJ, Pallet Rack Enclosure Cages Carteret NJ,  Pallet Rack Enclosure Cages NYC, Pallet Rack Enclosure Cages Astoria Queens, Pallet Rack Enclosure Cages Brooklyn, Pallet Rack Enclosure Cages Jersey City, Daily deliveries to Carteret, Edison, Jersey City, Long Island City, Brooklyn, Bronx, Toms River, South Brunswick, Trenton, Camden, Linden, Woodbridge, Eatontown, Freehold, Middletown NJ, Neptune Twp, East Brunswick,