Pallet Rack Doors Lakewood. Secure inventory with welded wire pallet rack doors. Stocked locally in hinged double doors and Bi-parting slide doors. Lock options include welded hasps for padlocks or cylinder locks with keys. Keys can be keyed alike for all pallet rack sections or keyed different with a master key for management. Designed for easy installations. Attaches directly to the pallet rack uprights. Doors stocked for pallet rack units 10′ w x 8'H, 10'w x 10'h, 8'w x 8'h, 8'w x 10'h 6'w x 8'w and 6'w x 10'h. Other sizes available on request. Racking welded wire backs and sides also in stock. Widely used to enclose racking in aisles to prevent product from falling off the beams into the walkways. Become code compliant today. all multi tier storage racks and shelving must be enclosed to meet code. Contact us today for a complimentary onsite layout.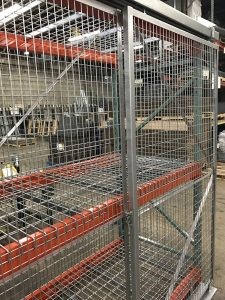 Stocked in powder coat fray. Other colors available on request. Our 109,000SF facility also stocks Pallet rack and wire deck, Steel shelving and employee lockers in steel, wood and hpde. A good alternative to Pallet rack when hand loading is bulk rack, bulk rack is 40% less in cost and holds up to 4500lbs per level.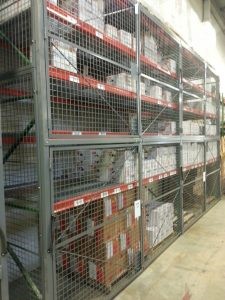 Bulk Rack shown above, Used when hand loading inventory without a forklift can reduce costs substantially. Holds up to 4500 pounds per level. Stocked up to 24′ high. With wire decks, solid decks.  P(917) 701-5795
Our facility is open Monday – Friday 7AM to 5PM and Saturdays 7AM to 4PM. Contact is today for immediate assistance. Sales@LockersUSA.com
Pallet Rack Doors Lakewood, Pallet Racking Enclosures Lakewood NJ, Pallet Racking Lakewood NJ 08701, Steel Shelving Lakewood NJ, Employee Lockers Lakewood NJ 08701, Pallet Rack doors New Jersey,  Pallet Rack doors delivered daily to Lakewood NJ, Lakehurst, Toms River, Howell Twp, Wall Twp, Manasquan, Jackson, Freehold, Bordentown, Cranbury, E Windsor, New Jersey.