Metal Lockers West Village NYC. Employee, School and Gym Lockers stocked in New York City's West Village. Proudly serving the five Boroughs since 1909. Our Locker Techs provide complimentary locker layouts six days a week. Open six days a week  P(917) 701-5795.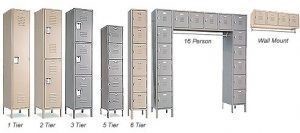 Metal Lockers in the West Village NYC  can be delivered with flat tops or sloping tops, Closed in legs, no legs or legs with closed in bases. Zee bases can be provided instead of legs. Filler panels and end cover panels can be included on request.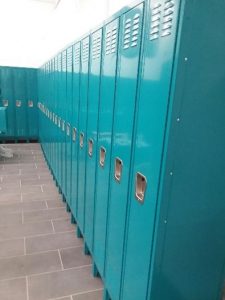 Our inventory also includes Wood Lockers and HPDE Plastic Lockers. Lockers with recessed pocket handles are recommended. Combination locks either built-in or combination padlocks can be installed. Locks can be programmed with a master key or we can have the new locks match the control key your facility is now using. Programmable locks come with 2 master keys and control charts to assign lockers with. Each combination locks has 5 different combo number series. As lockers are reassigned the combination number can be changed.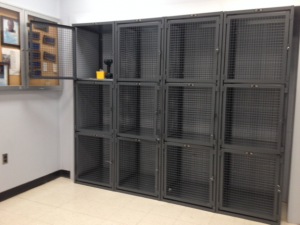 Welded Wire Lockers shown above stocked in three tier shown above, single tier and three tier in 14 standard sizes. Each framed welded wire door has a welded hasp for padlocks. Either full panels framed welded backs or full size rear door for easy loading of daily work orders and parts needed to service techs, etc.
Bulk Storage Lockers are ideal for securing inventory. Manufactured with framed 4ga welded wire which is more than double the thickness of 10ga thick wire. Each door has a full height anti-theft lock bar and welded hasp for padlocks. Bulk Storage Lockers can be attached directly to the rooms walls and floors. Tops, backs, floors and shelves can be included on request.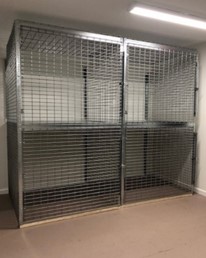 Bulk storage Lockers come standard in double tier – stacked doors and single tier – full height doors in 24 standard sizes. Bulk storage lockers available in rust resistant galvanized, grey or medium gloss black. Contact us today for immediate assistance. Sales@LockersUSA.com
Metal Lockers West Village NYC 10014, Steel Lockers NYC 10014, Employee lockers NYC, Gym Lockers NYC, School Lockers NYC, Bulk Storage Lockers NYC, Law enforcement Lockers NYC. Metal Lockers delivered daily to New York City, Brooklyn, Queens NY, Bronx, Staten Island.