Metal Lockers Mahwah.  Assembled Lockers in stock. No long lead times. In stock at the lowest cost. Proudly serving New Jersey Since 1909. Metal, Wood and Solid Plastic HPDE lockers in stock in our 109,000SF New Jersey Facility. Ideal for Manufacturing, Warehouse, Schools, Work, Law Enforcement, Gyms and Medical facilities. Our Lockers Specialist are available now. Phone (917) 701-5795.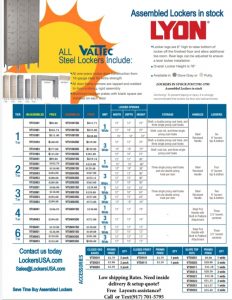 Our Locker Techs deliver daily throughout New Jersey six days a week. During Covid-19 as the lockers are taken off the truck our staff will sanitize all lockers with a CDC approved disinfectant. All will be wearing face masks, gloves, goggles. Once the lockers are anchored to the walls and floors the lockers will again be disinfected.
Also in stock combination locks either builtin or padlock type. Locks come with Control charts for management. Lists the locker number, persons name, Lock serial number and current combination number. Additionally the combo number can be changed a total of 5 times as users change. Master keys are provided to management.  Our Locker Techs will show how to change combo number when needed at no charge.  Additional stocked accessories include closed in leg bases. The lockers have 6″ high open legs. adding the leg bases closes in the front and sides of the lockers to prevent dust bunnies from hanging out below the lockers. Sloping tops can be added to prevent sneakers or shoes to be placed on top of each locker.
Locker Room Benches available from 3′ wide to 12′ wide. The benches are made with durable laminate butcher block or steel benches. Bench leg pedestals will be the same powder coat color as the lockers. Contact us today for immediate assistance. Our central New Jersey office is open Monday through Friday 6AM to 6PM and Saturdays 6AM – 3:30 PM. Sales@LockersUSA.com
LockersUSA also stocks Pallet Rack locally in 48 standard sizes. Beams widths from 6′ wide to 12′ wide. Also in stock is pallet rack wire decking.
All rack orders ship within 48 hours. Our Rack specialists provide Complimentary Layouts either online or onsite.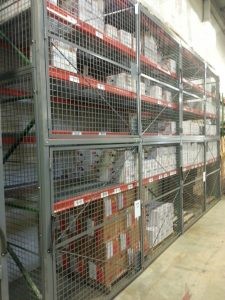 Metal Lockers delivered daily to Mahwah, Woodcliff Lakes, Montvale, Ridgewood, Midland Park, Franklin Lakes, Paramus, Totowa NJ 07512, New Jersey.