Metal Lockers Eatontown. Ready to ship. Ideal for work, medical, gyms, School, Hotels. Metal Lockers Eatontown stocks Metal, Wood, Stainless, Phenolic Lockers Locally. Complimentary Layouts. LockersUSA can deliver your lockers delivered assembled or knocked down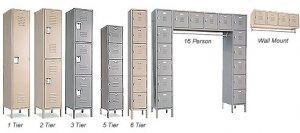 . Our factory trained team provides complimentary space, cost and code compliant layouts six days a week. P(888) 963-5355.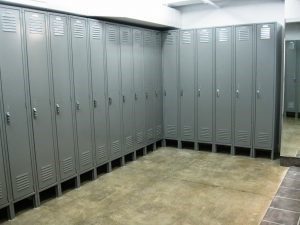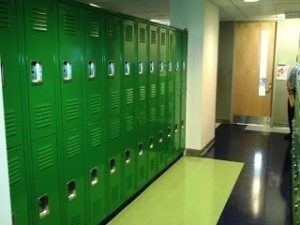 LockersUSA stocks several types of lock options for lockers. Padlocks, Padlocks keyed different with master keys, Digital Locks, Coin Operated Locks, Combination padlocks and Built in Combination Locks. Our Combination Locks have several features to use. Combo locks can be delivered and installed with key control, Each locker is designated with a locker number. The control charts detail the locker number, Users name, Combination number and 4 additional combination numbers that can be set as users change. After 4 changes the combination number can be changed back to the original combination number.
Employee Lockers Eatontown can help protect users from illness with Antimicrobial Metal Lockers. Antimicrobial finish provides continuous protection against the touch transfer of bacteria on the locker surface, as well as colonization of mold and bacteria in locker corners, seams and on hidden surfaces behind and under the locker.  Lockers with DuPont's Antimicrobial powder coat finish is guaranteed to last 20 years. It cannot be scrubbed or washed off. Providing decades of anti-bacteria resistant coverage. LockersUSA.com provides complimentary onsite layouts, additional suggestions on preventing the spread of bacterial on lockers by ordering lockers without ventilation holes and antimicrobial handles. We also stock Restroom Faucets, ADA hand rails, Towel dispensers, Sinks, Counters and restroom partitions stalls, Toilet seats, Door knobs and flushometers with Antimicrobial finish. Contact us today for additional information and or complimentary layout. Antimicrobial finish can be applied to all colors.
Metal Lockers  also stocks Locker Room benches with Maple Laminate or steel tops.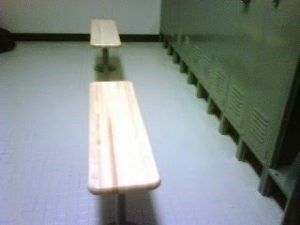 Bench bases delivered the same color as the lockers. Stocked locally from 3′ wide to 12′ wide. ADA Locker Room Benches also in stock. Golf Courses, DPW's, Law Enforcement, Factories and Hotels in the area have also purchased #1888 Benches.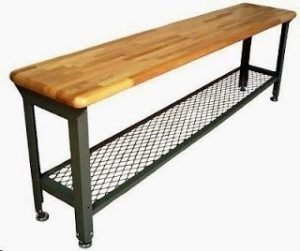 #1888B Available in 4 colors with a sturdy expanded metal bottom shelf. Contact LockersUSA today for immediate assistance. Our local office is open Monday – Friday 7AM – 7PM and Saturdays 8AM – 1PM  P(888) 963-5355 Sales@LockersUSA.com
Metal Lockers Eatontown, Metal Lockers Eatontown NJ, Steel Lockers Eatontopwn, Wood Lockers Eatontwon, Wood lockers Eatontown, Employee lockers Eatontown. Locker repairs Eatontown. Metal lockers delivered daily to Eatontown, Red Bank, Ocean Twp, Rumson, Lincroft, Middletown NJ, Keansburg, Hazlet, Holmdel, Keyport, Aberdeen, Matawan, Sayreville, Old Bridge, East Brunswick, all of New Jersey.
---