Metal Lockers Brooklyn.  Stocked locally,  Ideal for Work, Gyms,  Medical, School, Law Enforcement, Hotels and Restaurants. Complimentary Layouts. Lowest cost, Lifetime Warranty.   LockersUSA.com delivers assembled or unassembled Metal Lockers in Brooklyn daily. We also install.   Over the last 40 years our team has installed Lockers, Shelving, Shelving and Security cages in numerous buildings in Brooklyn.  Our experience can help you determine the exact lockers needed. The type of locker is based on available space and the amount of lockers needed. We are here to help.  P(917) 701-5795 .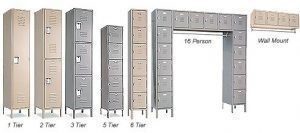 Box lockers also known as 5 Tier, 6 Tier lockers are widely used in Brooklyn. 6 tier box lockers shown above are 78″ high with legs. The most popular width is 12″ wide. Depth of the lockers is also key. 18″ deep is ideal for back packs, Shoes, Etc. Our Locker specialist will provide a complimentary space saving, Code compliant layout based on your specific needs. For long coats and uniforms single tier lockers are best suited. Single tier lockers allow for coats and uniforms to hang inside the locker. Each single tier locker comes with a hat shelf and coat hooks. The industry standard size.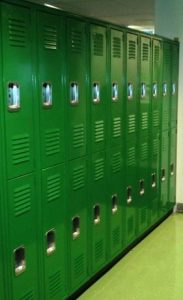 for single tier lockers shown above is 12″ wide x 18″ deep x 78″ wide.  Two tier Lockers shown below maximize space well. 2 tier lockers (stacked) allow for hanging of coats (to the hip) to hang neatly. Two tier lockers come with coat hook. The ideal size for 2 tier lockers (shown above) is 12″ wide x 18″ deep x 78″ high (includes 6″ legs. each locker is 36″ high.
Locks:  LockersUSA stocks padlocks and combination locks. Padlocks can come key controlled. Each lock uses a different key and management can be provided with master keys. Combination locks cab be installed in the door or combination padlocks can be supplied.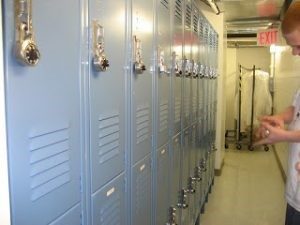 Combination locks are ideal for the restaurant and hotel industry. Each lock comes with 5 different combination numbers. As employees leave the combination number can be easily changed to the next available number up to 4 times before going back to the original combo number.  Master keys are provided for management and control charts. the control chart details the locker number, current employee and combination number currently being used. When the locks are installed management is provided with a tag of each employee to hand out when assigning lockers, detailing the locker number, combination number and how to use the combo lock. one side of the tag is in English, The other side of the tag is in Spanish. If your facility already has combination locks we can provide additional locks for the new lockers programmed to your existing key control system.  Contact us now for immediate assistance.                    P(917) 701-5795 or email Sales@LockersUSA.com.
Metal Lockers Brooklyn, Steel Lockers Brooklyn, Metal Lockers Brooklyn NY, Employee  Lockers Brooklyn, Used Lockers Brooklyn, Locker Installations Service Brooklyn. Metal Lockers delivered daily to Brooklyn, Red Hook, Park Slope, Kensington, Bushwick, Williamsburg, Prospect Heights, Brooklyn Heights, DUMBO, Greenpoint, Fort Greene, Carroll Gardens, Cobble Hill, Gowanus, Crown Heights, Flatbush.