Lockers Union Beach. Metal lockers in stock, Widely purchased for Schools, Law Enforcement, Medical, Manufacturing, Retail and Warehouse employees. Proudly serving New Jersey since 1909. Our Bayshore office provides Complimentary Locker room and Hallway layouts either onsite or online. P(917) 701-5795
The most popular types of lockers purchased today are single tier – full height, double tier – stacked doors and Box lockers – six tier high.
How to buy the lockers that you want cost effectively. Request standard sizes in standard no charge colors. When buying lockers select recessed pocket handles so the locks are not exposed. Another costly option is sloping tops. Sloping tops are thought to be used to prevent users from putting their shoes on top of the locker. It really does not work. Most shoes and sneakers can still be stacked on sloping tops. Another costly option is Zee bases. zee base is a steel counter type base installed under the lockers, Zee base is expensive and increases the install cost. Usually 4″ or 6″ high. To save a substantial amount of money request lockers with legs and closed in bases. Looks good.
ADA Lockers. ADA lockers are required for every 4 to 5 lockers installed. Our locker techs can show you the best location and code requirements at no charge.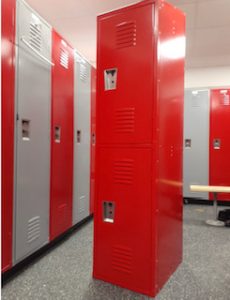 Locker Room Benches : Sizes range from 3′ wide to 12′ wide. The best look is laminate butcher block benches. Ask to have the bench pedestals the same color as the lockers.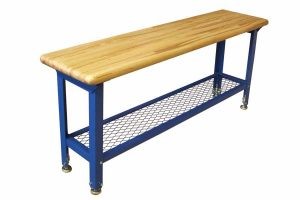 Should I have the lockers delivered assembled or unassembled ? Lockers take time to build onsite. Good installers can build 30-40 per team, per shift. If the room has adequate space to build, having the lockers arrive knocked down and built onsite will save on shipping cost and quicker lead time. Having the lockers built at the factory is a better build. The lockers are assembled with heavy duty rivets. Most onsite installers build with nuts and bolts that may get loose over time.  Lockers arriving assembled. All that is needed upon arrival is to bring the lockers inside, unbox them and anchor them to the wall.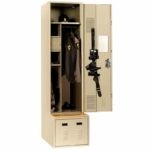 End finishing panels are strongly suggested for lockers at each end of the rows. The panel looks great, No holes and provides a heavier gage cover plate at the end of each row.
Order lockers with a Antibacterial finish. for 10% more lockers can be factory treated with a Antimicrobial finish that remains on the lockers for over 10 years reducing the transfer of many of today's virus's.
Invite local Lockers suppliers in to provide a complimentary layout. They are experienced, Know the codes and how to layout the locker room while being code compliant and user friendly.
Our Locker Room Techs are available 7 days a week. Contact us today for immediate assistance.  Sales@LockersUSA.com
Lockers Union Beach NJ, Lockers New Jersey