Employee Lockers Coney Island. Ideal for Work, Gyms, Restaurants, Medical, School, Complimentary layouts, Quick delivery, Lowest overall cost. LockersUSA stocks metal/steel lockers, wood, plastic, stainless steel and ADA lockers in five popular types. Buy Local and save. P(917) 701-5795.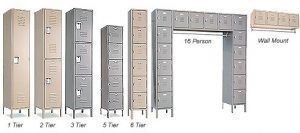 Single Tier Lockers are the most popular when space allows followed by two tier lockers. Six tier lockers aka box lockers maximize space and allow for backpacks and laptop storage.  The most popular width is 12″ wide x 18″ deep in all tiers shown above.  Lockers come standard in full tier with recessed handles, Full height continuous hinges, number plates, hat shelf, flat tops, open 6″ legs and coat hooks. Sloping tops, closed in legs or bases, finished end panels can also be delivered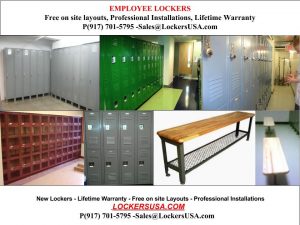 Employee Lockers coney Island stocks locker locks. Locks can be built in combination locks, Combination padlocks, padlocks. Master key are also available. Combination locks come with control charts. Each lock comes with 5 sets of combo numbers as locker users leave the combination number can be changed. Details in the control charts include locker number, current combo number and the four additional combo numbers available. If your facility already has combination locks with key control we can supply the new locks to match your existing system.
LockersUSA complimentary layouts will keep your locker room space efficient and code compliant regarding aisle space, ADA and egress. Contact us today for immediate assistance. Sales@LockersUSA.com or P(917) 701-5795.
LockersUSA also stocks locally Tenant Storage Cages in single tier and Double Tier – Stacked in 16 popular sizes. Manufactured with 4ga welded wire – galvanized steel. Each tenant storage cage comes with a welded hasps for padlocks and full height anti theft lockbars.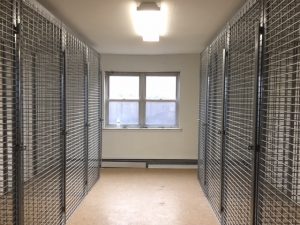 Two Tier Tenant Storage Cages shown below maximize space and are very popular in the 5 boroughs. Stocked in various sizes.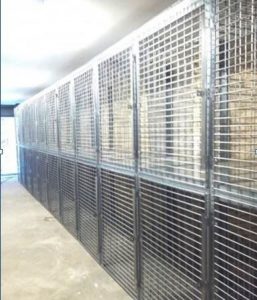 Tenant Storage Cages Generate good revenue today most developers and landlords charge a monthly rental rate for tenant storage averaging $75.00 to $125.00 per cage. A residential building with 40 cages being rented our for $75.00ea would generate $36,000.00 in revenue per year. The lockers would pay for the investment in 6-7 months. Contact us today for a complimentary on site layout. P(917) 701-5795 or Sales@LockersUSA.com
Employee Lockers Coney Island, Metal Lockers Coney Island, Steel Lockers Coney Island, Employee Lockers Brooklyn, Employee Lockers JFK Airport, Employee Lockers Jamaica, Employee Lockers Bensonhurst , Employee Lockers Fort Hamilton, Employee Lockers Borough Park. Tenant Storage Cages Coney Island, Tenant Storage Lockers Coney Island, Tenant Storage Cages Brooklyn.