Conveyor Platform Crossovers NJ. Ideal for Manufacturing, Distribution Centers, Fulfillment and Warehouse. Conveyor Crossover bridges and Ship Stairs crossovers provide code compliant egress access over conveyors, equipment, machinery, etc.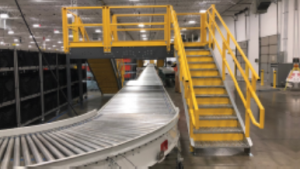 Platform crossovers are OSHA or IBC compliant stairways, 4′ landing, in several lengths. Deck options include bar grate, perforated decking, solid decking and anti slip surface of plywood. Various standard heights available. The system was made to be modified in height and or deck easily on the jobsite.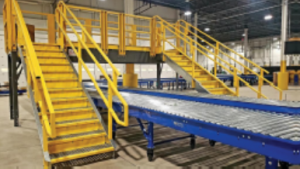 The crossover kits allow for numerous shapes to be configured when needed to plan for code compliant egress.  LockersUSA crossover specialists provide complimentary onsite layouts in New Jersey and NYC.  Sales@LockersUSA.com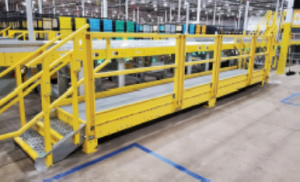 Platform Landings – Walkways for conveyor low rise landings for employees to be at the exact height needed next to the conveyor at the right height needed for your specific sorting or maintenance operation. The landing platforms kits include anti-slip landings, railings and two IBC type stairways at each end.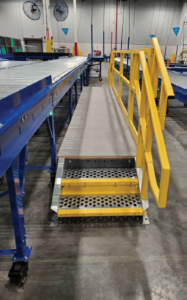 LockersUSA's 109,000SF NJ facility also stocks Conveyor Safety Fence designed to protect workers from hazardous conditions when the conveyors are on.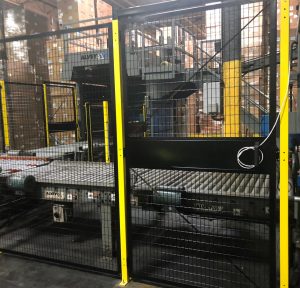 Become code compliant today. Our conveyor line specialist provide code compliant onsite layouts and quotes daily. Contact us today for immediate assistance. Our office is open Monday through Friday 7AM – 5PM and Saturdays 7AM – 3PM. P(917) 701-5795 or email us: Sales@LockersUSA.com
Conveyor Platform Crossovers NJ, Conveyor Platform Crossovers NYC, Conveyor Crossover stairs NJ, Conveyor crossovers NJ, Conveyor Crossovers NY 11101, Conveyor Crossover stairs Long Island City Queens 11101, Conveyor safety fence NJ, Conveyor machine guarding NYC, Conveyor Platform Crossovers  shipped free to Wall Twp, Manasquan, Piscataway, South Plainfield, Jersey City, North Bergen, Woodbridge Twp, Perth Amboy 08861, Edison NJ, Monmouth Junction, Avenel, Cranbury, Mount Holly, Burlington Twp, Moorestown, West Windsor, Robbinsville, Eatontown, Tinton Falls, Lakewood NJ, Staten Island, Long Island City,  Clifton, Bronx, Brooklyn,   New Jersey, New York