Brooklyn Tenant Storage Cages. Generate Revenue, Tenant Storage Cages in Brooklyn generate good revenue. Co-op, Condo and apartment buildings have been renting out tenant storage cages for $200.00 per month. Residential and commercial buildings with 30 tenant storage cages renting out at $200.00 per month would generate $72,000.00 per year in maintenance free revenue. New residential buildings that have parking downstairs have realized most residents don't have cars and have added more tenant storage cages in the parking garage to generate revenue. The tenant storage cages pay for themselves in less that 8-9 months.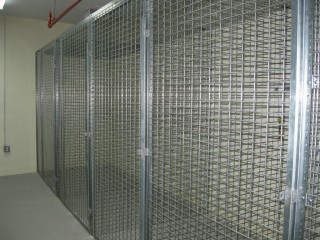 LockersUSA provides complimentary  layouts, professional installations, Lifetime warranties at the lowest overall costs. Each of or tenant storage cages has several standard features listed as options by other makes. Each of or lockers is 4ga welded wire, Which is twice as thick as other makes at 10ga. Both our galvanized steel and powder coat finishes are durable at attractive. Each locker comes with a full height lock bar, Welded hasps for padlocks or cylinder locks.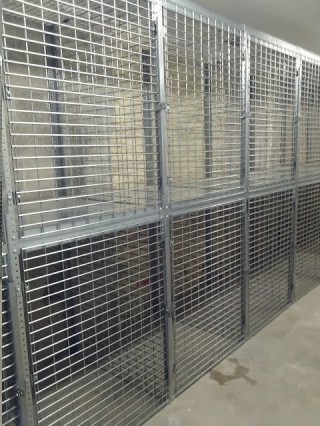 Stocked in Brooklyn is full size – walk in type, And Double Tier (stacked) in numerous standard sizes. Our modular design allows us to create odd shaped tenant storage cages at standard pricing. When choosing a supplier ask for an on site complimentary layout and quote. Ask to see a local installation to see the quality of the cages and installation. Look at the warranty. Lifetime warranties on the cages and installations are standard with LockersUSA.com.

Check the welded wire ga. the thicker the welded wire, The more security the cages have. LockersUSA.com stocks 4ga welded wire cages, Double the thickness of of makes 10ga. Contact us today our office is open 7 days a week. Sales@LockersUSA.com or call us at P(917)701-5795 .
Brooklyn Tenant Storage Cages, Tenant Storage Cages Brooklyn, Tenant Storage Lockers Brooklyn, Folding Guard Tenant Storage Lockers Brooklyn. Tenant Storage Cages Sheepshead Bay Brooklyn 11229,  Daily deliveries tenant storage cages by neighborhood Park Slope, Gowanus, Willamsburg, Flatbush, East New York, Greenpoint, Sunset Park, Brighton Beach, Sheepshead Bay 11229, Bushwick, Crown Heights, Brownsville, Clinton Hill, Prospect Park, Prospect Heights, Cobble Hill, Brooklyn Heights, DUMBO, Carroll Gardens, Bedford Stuvesant, Borough Park, Bensonhurst, Dyker Heights, Midwood, Gravesend, Bath Beach, Canarsie, Red Hook, Fort Greene.