Tenant Storage Bins NYC. Create a revenue generating Amenity. Free on site layouts, Lowest cost, Lifetime Warranty. Tenant storage bins stocked in NYC in full size – walk in type and 2 tier tenant storage bins. Our specialists will help you create a space saving, code compliant layout with our complimentary layout. Sizes of the tenant storage bins are normally based on the number of residential units and storage space available in the designated room.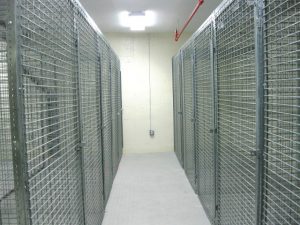 LockersUSA.com bins are widely used in NYC, Brooklyn, Queens, Staten Island, Bronx, Harlem and New Jersey. When getting quotes for Tenant Storage Bins check the gage of steel. 4ga steel is the thickest welded wire gage available and comes at no additional cost from LockersUSA.com. Each bin comes with full height anti theft lock bars and welded hasp or steel encased cylinder locks. Stocked in Galvanized steel or gray powder coat finish. or 5 standard other color bins.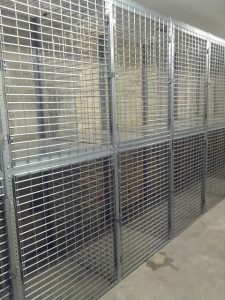 Two Tier lockers are ideal for smaller storage rooms where the need for multiple bins are needed. Stocked 3′ wide and 4′ wide and 3′, 4′ and 5′ deep. The height of each tenant storage cage is 45″. Stacked height is 90″.

Revenue Generating Amenity: In NYC Tenant Storage Bins today are rented out averaging $90.00 to $175.00 per month. If the basement has 40 Tenant Storage bins renting out for $90.00 per month the bins would generate $43,200.00 per year in maintenance free revenue. Contact us for average rental rates for your exact neighborhood. Sales@LockersUSA.com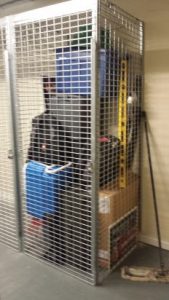 Tenant Storage Bins stocked in Manhattan 3'wide and 4′ wide x 3′, 4′ and 5′ deep. Larger sizes can be created cost effectively with our modular design.  Contact us now for immediate assistance Sales@LockersUSA.com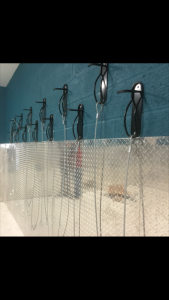 Our inventory also includes Wall Mount Bike Brackets that allow bikes to be stored just 12″ apart. Made of all welded steel with a shiny black powder coat finish. If your creating a new bike room or need a good solution to an overcrowded existing bike room contact us for a free bike room layout. Designed with the bike owner in mind. Easy to use, Minimal lifting. Each #42488 wall mount bike bracket comes with a 5′ long cushion coated security cable that can be wrapped around the bike frame, both rims and padlocked. P(917) 837-0032 or Fill out the form in this link for a complimentary layout
LockersUSA delivers Tenant Storage Bins and Tenant Storage Cages daily to NYC, Brooklyn, Queens, Bronx, Harlem, Staten Island and New Jersey.
Tenant Storage Bins NYC