Tenant Storage Cages Perry St NYC. Generates excellent Revenue, Free on site Layouts, Lifetime Warranty, Lowest overall cost. Tenant Storage Cages on Perry St NYC generate good revenue for the building through monthly rentals of tenant storage cages to residents. In New York City rental rates for tenant storage cages ranges from $125.00 to $250.00 per month per cage. If a residential building has 40 tenant storage cages renting out at an average of $125.00 per month, The tenant storage cages would generate $60,000.00 per year in maintenance free revenue. The return on investment typically is 8 months or less. Contact us today for additional information on Generating revenue and or free layouts. P(917) 837-0032.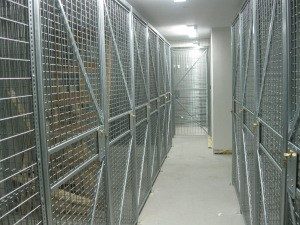 Standard size tenant storage cages range from 3'w x 3'd x 90″ high to 5'w x 5'd x 90″ high. Larger units are also in stock. LockersUSA.com based in the West Village stocks 3 types of tenant storage cages. Single tier (walk in) Two Tier (stacked) and larger sizes built with our all welded steel panels and doors in hinged and sliding.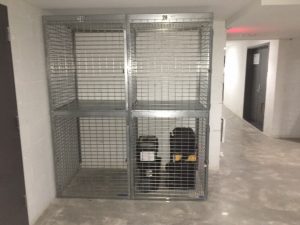 Our tenant storage cages are manufactured with 4GA galvanized steel with all welded grid openings. Each locker comes with a welded hasp or steel encased cylinder lock. in addition to galvanized the lockers are available in 4 standard colors. 4GA steel is more than double the thickness of welded wire of most other makes that typically supply 10GA. Please see the chart below for comparison.

4GA costs the same as 10GA but provides more than double the welded wire steel thickness, Providing added security. LockersUSA's tenant storage cage specialists provide complimentary on site layouts Monday though Saturday that will save your building space and money while creating a code compliant tenant storage space. Our West Village office is open Monday through Friday 7AM – 5PM and Saturdays from 8AM to 1PM. P(917)837-0032 or email Sales@LockersUSA.com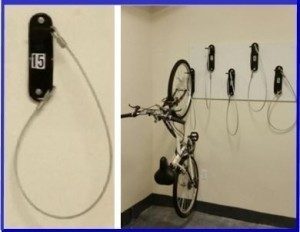 LockersUSA also stocks wall mount bike brackets that allow bikes to be stored just 12″ apart. Space saving, Easy to use. Manufactured with all welded steel with a durable powder cost finish. #42488 wall mount bike brackets allow residential buildings to provide space saving, User friendly bike storage. #42488 Bike brackets has a 5 foot long cushion coated security cable attached to our bracket that can be wrapped around the bike frame, Both rims and secured with the bike owners lock. Backed with the industries only lifetime warranty. Contact is today for a complimentary bike room layout. Our bike room specialist will even install a sample for residents to try before proceeding.
Contact us today for immediate assistance Sales@LockersUSA.com P(917)837-0032 or feel free to use our Complimentary layout form.
Tenant Storage Cages Perry St NYC, Tenant Storage Cages NYC 10014, Tenant Storage Lockers New York City 10014. Tenant Storage Cages New York City. Tenant Storage Bins NYC.