Server Cages NYC.  Secure your server network with Welded Wire Server Cages. Server Cages stocked in NYC on West 57th St. Free Layouts, Immediate deliveries, Lowest overall cost. Lifetime Warranty. Built to last, Designed to provide secure, visible protection. Allows for air and light to pass freely with out upgrading utilities.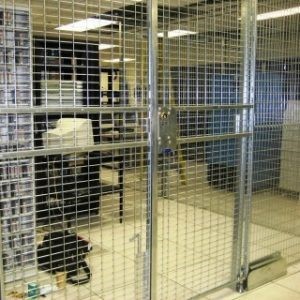 Server cages in NYC stocked with sliding doors or hinged doors. Doors can come with cylinder locks, card swipe, push button locks, key fob or with interchangeable cores to match your existing system. Server cages can be built to your drop ceiling or above the drop ceiling. Tops can also be added, Ceilings are also 8ga welded wire with all welded grid openings.  Server cages can be delivered in 5 standard powder coat colors and durable galvanized steel. Interior push bars and hydraulic door closers are stocked in our NYC warehouse and can be added to your doors upon request. Co-location cages can be attached to the floor or below the raised access floor. Ceiling for co-location cages can be built to the rop ceiling or above the drop ceilings for added security.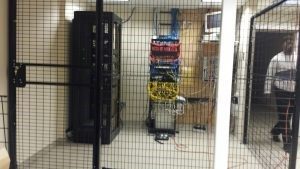 LockersUSA is base in NYC, Our team provides complimentary layouts, Professional installations at the lowest overall cost with a Lifetime warranty.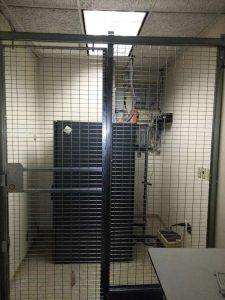 Installations are done daily in New York City, Brooklyn, Queens, Staten Island, Bronx, Westchester, Jersey City, Newark and Fort Lee. Contact us today for immediate assistance. Sales@LockersUSA.com or Phone (917) 701-5795. Our NYC office is open Monday through Friday 7AM – 5PM and Saturdays 7AM – 1PM.
Server Cages NYC, data center cage fencing, data center security cages, colocation cages, data center cage pricing, wire security cages, server room cages, Server Cage Doors NYC, data center fence. Server Cages delivered daily to NYC, Brooklyn, Queens NY, Brooklyn, Bronx, Staten Island, Jersey City, Newark.
Server Cage Installation West 57th Street NYC 10019