Security Cages New York. Welded wire security cages. Stocked Locally. Complementary Layouts, Lowest overall cost, Lifetime Warranty. Manufactured with 8ga framed welded wire. Hinged Doors and Sliding Doors in stock from 3'wide to 12′ wide. Doors can have welded hasps for padlocks or cylinder locks, push button, card swipe, key fob. Electric strike, Mag Locks, Automatic door closers can also be added.  Quick delivery in durable Galvanized Steel, Powder cost Grey or Black. Other colors also available. Ceilings can be added. Heights up to 24′. Modular design eliminates custom costs due to columns, piping or HVAC.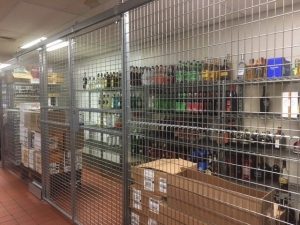 Ideal for Secure  Inventory Storage, Tool Cribs, Perimeter Barriers, Door and Dock Access Cages, Machine Guarding, Tenant Storage Cages, Data- Server Cages DEA Pharmaceutical Cages and Robotic Cells.  Based in New York City, LockersUSA provides complementary layouts throughout New York. Woven Wire Partition Cages and Expanded Metal Security Cages also in stock. Widely used by Hotels, Manufacturing, Warehouses, Hospitals, Law Enforcement, Restaurants, Retail. Telecom,  Every where secure, Visual Storage is needed. Multiple cages can have cylinder locks keyed different with master keys for management.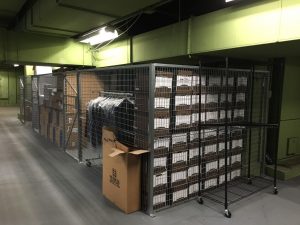 Security Cages New York Generate Revenue. Recently Office Buildings and Tourist Attractions have begun offering Security Cages in previously underutilized space. Offering Office Tenant on site storage cages is a win – win. The tenant no longer has to go off site to retrieve storage and teh building generates revenue through monthly rentals of storage cages. A Tourist attraction just installed 6 cages for thier vendors to store their products, Eliminating the need to deliver products every day. Payback on Security cages is very quick, Normally 5-6 months.  Contact us today our office is open Monday through Friday 7AM to 5Pm and Saturdays 7AM – 2PM. Sales@LockersUSA.com or P(917) 701-5795.
Security Cages New York, Security cages NYC, Security Cages New York City, Welded wire partitions NY, Storage Cages NYC, Security Cages delivered daily to New York, New York City, Brooklyn, Queen, Bronx, Staten Island. New York