Security Cages Astoria Queens. Welded wire Security Cages stocked locally. Complimentary layouts, Lowest overall cost, Lifetime Warranty. Secure inventory, Create perimeters, Control access to unauthorized visitors. Manufactured with 8ga framed welded wire with all welded grid openings in galvanized or 5 powder coat colors. Doors stocked from 3′ wide to 12′ wide in Hinged, Single slide and bi parting hinged or slide door pairs. Posts – Framing for Security Cages are 2″ x 2″ x height needed with 2″ x 6″ welded foot plates. LockersUSA's modular design eliminates costly custom cutouts.
Heights can be from 6′ to 24′ high and or with or without ceilings. LockersUSA based locally security cages are widely used in Warehouses, Distribution, Manufacturing, Hotels, File Record applications, Server cage enclosures, DEA Pharmaceutical Cages, Driver access cages, Machine Guarding and Residential Storage.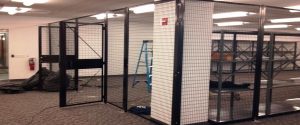 Our Astoria team provides complimentary online or onsite layouts six days a week in the 5 boroughs. Office buildings in Queens now provide on site storage cages in the basements for tenants. Onsite storage is a win – win. The tenants don't have to go off site or waste time and landlords typically charge a monthly storage cage charge that generates good revenue. Cages are typically rented out from $125.00 to $300.00 depending on the size. An office building renting our 30 security cages for $150.00 per month on average would generate $54,000.00 per year in revenue. The cages typically pay for themselves within 5-6 months.
Machine Guarding – Safety Fence. Stocked locally in Queens. Used to enclose equipment and protect

workers from moving machinery. Our Astoria office provides complimentary on site layouts six days a week. Sales@LockersUSA.com
contact is today for immediate assistance. P(917) 701-5795.
Security Cages Astoria Queens, Wire Partitions Queens NY, Tenant Storage Cages Astoria, DEA Cages  Astoria Queens, Security Cages Long Island City, Tenant Storage Cages Astoria, Tenant Storage Lockers Astoria, Tenant Storage Lockers Long Island City. Machine Guarding NYC, Machine Guarding Queens NY, Machine Guarding Brooklyn, Security Cages Astoria Queens 11105.