Foldingguard Tenant Storage Cages NYC. Proudly serving NYC over a century. Revenue Generator. Folding Guard Tenant Storage Cages in stock. Lowest overall cost, Lifetime Warranty. Manufactured with 4ga welded wire in rust resistant galvanized, Powder coat black or gray. 4ga welded wire is more than twice as thick of other brands, Providing added security at no extra cost.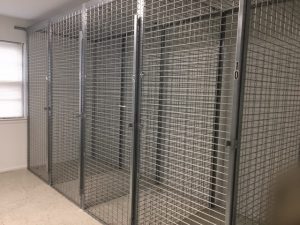 LockersUSA.com factory authorized installers provide complimentary tenant storage cage layouts and installations daily. Our inventory includes Single tier – walkin and double tier stacked tenant storage cages. Standard stocked sizes ranged from 3'w x 3'd x 7'h 90″ h and 8′ high. Lock options include welded hasps for padlocks, cylinder locks, card swipe and push button. Larger size tenant storage cages can be delivered quickly, Manufactured with our modular stacking panels from 6′ wide to 12′ wide x 20′ deep. Tenant Storage cages typically attach directly to the rooms walls and floors. Tops, backs, floors and shelves can also be included. Tenant Storage Cages off the walls come with backs in the same material.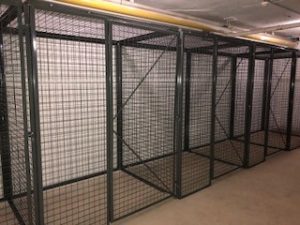 Foldingguard Tenant Storage Cages NYC generate excellent revenue. Developers today either sell or rent tenant storage cages to residents. Recent sales of tenant storage cages range from $10,000 per cage to $300,000.00 per cage. Most residential buildings rent tenant storage cages. Rental rates range from $75.00 to $300.00 per month depending on the size. A tenant storage room with 40 cages renting out on average for $125.00 will generate $60,000.00 per year in revenue. The ROI (return on investment) averages just 7-8 months. Combined with our industries only lifetime warranty.  Their a great investment. Recently buildings in Brooklyn, Manhattan and Queens have discovered that new residents do not have cars. Some buildings have converted parking spaces to tenant storage cages which rent out quickly.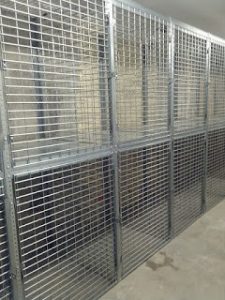 Our inventory also includes Folding Guard Security Cages, Machine Guarding Cages, DEA Cages, Welded Wire Lockers and Wire Partitions. Our team provides complimentary layouts six days a week. Our office is open Monday through Friday 6AM – 5Pm and Saturdays from 6AM – 4PM. Contact us now for immediate assistance. Sales@LockersUSA.com or P(917) 701-5795.
Foldingguard Tenant Storage Cages NYC, Folding Guard Tenant Storage Lockers, Tenant Storage Cages NYC, Tenant Storage Lockers NYC, FoldingGuard Tenant Storage Cages delivered daily to New York City, Brooklyn, Queens, Bronx, Staten Island, Long Island, all of New York.
Folding Guard Tenant Storage Cages New York City zip codes 10013, 10011, 10010, 10014, 10012, 10023, 10024, 10025, 10198, 10028, 10003, 10019, 10002, 10038, 10034, 10198, 10022, 10021, 10048, 11101, 10105, 10018, 10020.