Wire Storage Cages NYC. Proudly serving NYC since 1909. Welded wire storage cages, Tenant Storage Cages and Security Cages stocked locally. Complimentary Layouts, Professional Installations, 5 year warranty, Free delivery to the 5 Boro's.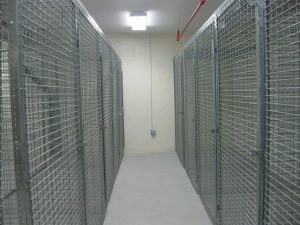 Residential wire storage cages stocked in single tier – full height and double tier – stacked doors in 24 standard sizes. Manufactured with 4ga welded wire. 4ga is more than double the welded wire thickness of 10ga. Providing increased security at no extra cost. Doors stocked 3′ wide and 4′ wide. Our doors have full height anti-theft lock bars and welded hasps for padlocks. Color options include rust resistant galvanized, Powder coat grey or black.  Our NYC office provides Complimentary Layouts either online or onsite. Feel free to use the form in the link or contact us for immediate assistance.  Most buildings have the cages attached directly to the rooms existing walls and floors. Tops, backs, shelves, floors can also be included upon request.

Residential Storage Cages NYC generate excellent revenue. Today most developers, landlords, co-op and condo boards charge a monthly rental fee to use a storage cages ranging from $75.00 to $350.00 depending on the size. A building with 40 cages renting out for $125.00 on average would generate $60,000.00 per year in revenue. The cages would pay for themselves in 7-8 months on average.
Recently office building owner came up with a creative idea to use their vacant retail space that they feel will not be leased soon. To generate revenue they asked us to install our bike racks and 40 tenant storage cages for tenants and neighboring buildings in the retail space. The cages are renting out for $125.00 per month. The storage cages are generating $60,000.00 per year in revenue.
LockersUSA also stocks Security Cages, Machine Guarding Safety Fence, Tool Crib Cages, DEA Cages and Welded Wire Lockers. Our welded wire security cages are manufactured with 8ga thick welded wire. Doors stocked in both hinged and sliding doors from 3′ wide to 12′ wide in single hinged, double hinged, single slide and bi-parting slide doors. Lock options include cylinder locks, welded hasp for padlocks, Programmable locks in push button, card swipe or key fob. Mag locks, Electric strike also available. Hinged and Slide doors can have auto hydraulic door closers. Single hinged doors can also be prepped with interior push bars. Contact us today for complimentary layout and quote assistance. P(917) 701-5795.
Storage Cages delivered free to New York City, Queens, Brooklyn, Staten Island and the Bronx.