Wire Partition Cages Piscataway.  Since 1909, Complimentary Layouts, Lowest Cost. Lifetime Warranty.  Build Security Cages,  Perimeter Cages, DEA Cages, Equipment Enclosures with 10ga Woven Wire. Wire Partitions stocks doors in hinged, sliding, double hinged doors and bi – parting slide doors with cylinder locks. Magnetic Locks, Push button Locks, Card swipe or Key fob locks can be included. Call now we open at 6AM six days a week P(917) 701-5795.
Wire Partitions Cages Piscataway stocks panels, doors and posts in powder coat gray, black and durable galvanized.  Any configuration can be made with our modular designed panels. Sales@LockersUSA.com
Wire Partition Cages can be delivered in any width and heights up to 24' high. Tops can be added. Standard heights stocked locally are 7'H and 8′ high. Standard heights provide the lowest overall costs.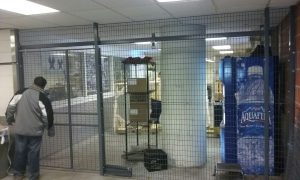 Wire Partitions manufactured with  10-gauge steel wire, woven into an extremely strong 1-1/2" diamond mesh. Frames, posts, and components are all steel. Panel hardware is accessible only from the inside of partition for added security. Open, woven wire mesh design provides an unobstructed view and allows air circulation and light penetration while providing security. We also stock 8ga and 10ga framed welded wire cage systems.
Cost Effective – Durable we offer superior woven wire partitions at an economical price. And we welcome cost and quality comparisons with other manufacturers of wire partitions and security cages. Save money on expensive freight rates.
Modular Design ‐ the component system makes it easy to design woven wire partitions up to 25-feet in height. Partition doors are pre-hung, cutting installation time in half. Woven wire partitions are easily disassembled and relocated, making reconfiguration faster and less expensive.
No Maintenance Required – our woven wire partitions have a long-lasting, maintenance-free gray or black powder coating finish.
Woven wire partitions are ideal for separating and securing any space in industrial, commercial, Hotels, Pharmaceuticals, Government. Woven wire partitions can be used to enclose work areas, to create secure storage cages in factories and warehouses, and to provide access control and loss prevention. Our woven wire partitions are perfect for stock rooms, DEA Cages, Tenant Storage  and commercial storage facilities.

Welded Wire Partitions provide code compliant Machine Guarding enclosures for electrical equipment and moving machinery. Our Machine Guarding –  Machine Guarding – Safety fence can be delivered and installed in 1 week.  Contact us today for a complimentary code compliant layout. LockersUSA is open six days a week. Sales@LockersUSA.com or P(917) 701-5795 .
Tenant Storage Cages are widely used in the Piscataway area. Stocked locally in single tier – walk in and double tier – stacked. in 12 different sizes. Stocked in 4ga welded wire in Galvanized steel, Powder coat gray and black. Each Tenant Storage cage has a full height, Anti theft lockbar, Welded hasp for padlocks. Normally Tenant Storage cages are attached directly onto the buildings walls and floors. Tops, floors, backs can be delivered as options. Middle rows come standard with backs.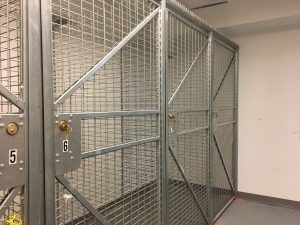 Tenant Storage Cages Generate excellent revenue. They pay for themselves (ROI) within 6-7 months on standard sizes when rented out monthly. Complimentary layout form
Wire Partitions Cages Piscataway,  Wire Partition Piscataway, Woven Wire Mesh Partitions Piscataway, Welded Wire Partitions Piscatway, Wire Partition cages South Plainfield, Machine Guarding Cages Piscataway, Wire Partition Cages delivered daily to Piscataway, South Plainfield, Somerville, Somerset, New Brunswick, Highland Park, Metuchen, Edison, Franklin Twp, North Brunswick, Bridgewater.