Tenant Storage Lockers W 72nd St NYC. Proudly serving NYC since 1909. Stocked locally, Generates Good Revenue, Complimentary layouts, Lowest cost, Lifetime warranty. Professional Installations.  Manufactured with 4ga welded wire in rust resistant galvanized or powder coat black or gray.  Stocked from 3′ wide to 5′ wide in standard sizes and up to 8′ wide in 10ga welded wire. Doors stocked in 3′ wide and 4′ wide in hinged with welded hasps for padlocks or cylinder locks.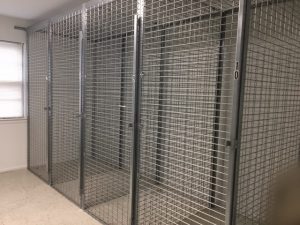 New York City's huge construction boom has created the need for space saving, code compliant tenant storage.  Our UWS office provides complimentary tenant storage locker layouts six days a week. In addition we have local installations in all neighborhoods for you to visit, Inspect the quality and workmanship. We use our own installation teams.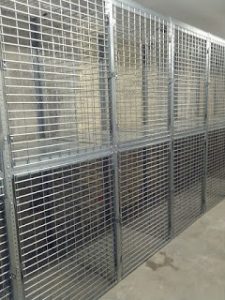 Tenant Storage Lockers W 72nd St NYC generates excellent revenue. Today almost all developers, landlords, co-op and condo boards charge a monthly rental fee for onsite storage ranging from $75.00 to $250.00 per month depending on the size. a building with 40 tenant storage lockers renting out for $95.00 per month on average will generate $45,600.00 per year in revenue. The ROI (return on investment) is very quick averaging just 7-8 months max. Combined with the industries only Lifetime Warranty tenant storage cages from LockersUSA is a great investment.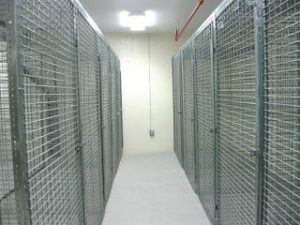 LockersUSA also stocks security cages, Perimeter cages, Inventory cages and wall mount bike brackets in New York City. Our #42488 wall mount bike brackets have been designed to eliminate crowded bike rooms. Creating a space efficient,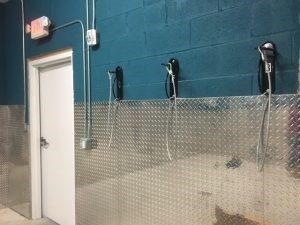 Easy to use bike room with no bikes on the floor, Reducing liability. #42488 wall mount bike brackets are made with cushion coated steel with a shiny black, Powder coat finish. Designed to allow bikes to be spaced just 12″ apart. Easy to use with minimal lifting. Lockable, Attached to each of our bike brackets is a five foot long cushion coated security cable that can be wrapped around the bike frame, both rims and secured with the bike owners lock. Our team provides complimentary bike room layouts in the five boroughs six days a week. Contact us today for immediate assistance. Sales@LockersUSA.com
Tenant Storage Lockers W 72nd St NYC, Tenant Storage Lockers NYC, Tenant Storage Cages NYC, Tenant Storage, Wall Mount Bike Brackets NYC 10023. Tenant Storage Lockers New York City. Galvanized tenant storage cages,