Tenant Storage Lockers Manchester Twp. Complimentary layouts, Excellent Revenue Generator, Professional Installations, Stocked locally, Free delivery. Manufactured with 4ga thick welded wire. (4ga thick welded wire is more than double 10ga thick welded wire) Providing increased security for less cost thanks to robotic manufacturing. Doors stocked in single hinged 3′ wide and 4′ wide. Each of our doors has the industries only full height anti-theft lock bars, The doors also have welded hasps for padlocks and number tags. Tenant storage cages are stocked in aesthetic rust resistant galvanized. Durable. Galvanized looks amazing and attracts potential residents. Also stock locally is medium gloss black and grey. Our NJ office provides Complimentary Layouts six days a week either online or onsite. Feel free to use the handy form in the link above or contact us for immediate assistance Monday – Friday 7AM to 6PM. Sat. 7-4.
Storage Cages are made in Single tier – Walk in units and Double tier – Stacked doors. Both are very popular in the Tri State area. Industry wide storage cages are provided as Starter units (1 door and 2 side cages) and Add-on units (1 door and 1 side cage panel) Each row begins with a starter cage, The rest of each row is filled with add on units. The entire row is attached with their common sides. Most buildings have the storage lockers attached directly onto the rooms existing back walls and floors. Tops, backs, floors, shelves can also be included.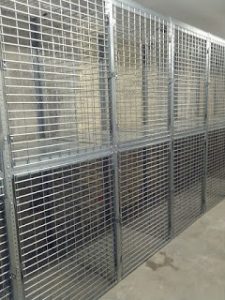 Tenant Storage cages in Manchester Twp generate good revenue, Today most developers, landlords, HOA's, Condo and Apartment buildings charge a monthly rental rate for the cages ranging from $45.00 per month to $150.00 per month depending on the size. a residential building with 50 units renting our for $65.00 per month on average will generate $39,000.00 per year in revenue. The ROI (Return on investment) averages 7-8 months.
Our 109,000sf New Jersey facility also stocks Security Cages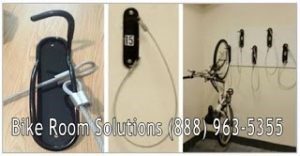 and Space Saving Wall Mount Bike Racks. Design for today's bike room storage needs. Bikes can be stored just 12″ apart when space is tight. Our bike techs created the #42488 bike brackets with the bike owner in mind. The bike brackets are easy to use with minimal lifting. If a resident can lift their bike on a curb, #42488 bike brackets are ideal. Wall mount bike brackets maximize space while keeping the floor totally clear for easy passage. We also manufacture floor bike racks.
Tenant Storage Cages Manchester Twp, Tenant Storage Lockers Manchester Twp NJ,   Tenant Storage Cages Whiting NJ 08759, Tenant Storage Lockers Whiting NJ, Wall Mount Bike Racks Manchester NJ, Wall Mount Bike Racks Whiting NJ, Tenant Storage Cages Brick NJ, Tenant Storage Cages Toms River NJ 08753. Tenant Storage Cages delivered free to Manchester Twp NJ 08733, Toms River NJ 08732, Brick Twp 08723, Lacey Twp 08006, Stafford Twp 08005, Ocean Twp NJ, New Jersey.