Tenant Storage Cages Greenpoint. Generates good revenue. Free layouts, Lowest overall cost. Lifetime warranty. Stocked Locally. Call Now P(917)701-5795. Tenant Storage Cages Greenpoint stocked in Single Tier – Full size and Two Tier Stacked. Built to last with 4ga welded wire in Galvanized Steel with all welded grid openings.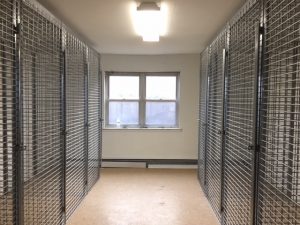 Tenant Storage Cages Greenpoint Generates Good Revenue. Today most developers, Landlords and Co-op boards charge a monthly rental fee for on site tenant storage ranging from $75.00 to $150.00 per month. A residential building in Greenpoint Brooklyn with 50 tenant storage cages charging a monthly average of $80.00 per month would generate $48,000 per year in revenue. The (ROI) Return on Investment is just 6-7 months.  LockersUSA provides complimentary on site space saving, code compliant layouts 6 days a week.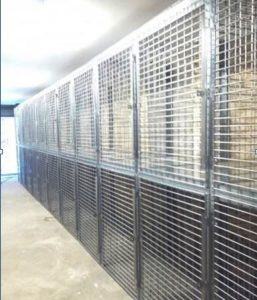 Tenant Storage Cages Greenpoint comes with full height anti theft lock bars, welded hasps and number tags. Floors, Tops, Backs and shelves can also be added. LockersUSA based locally tenant storage cages are twice the welded wire thickness of other brands for less. 4ga welded wire is today's industry standard

compared to 10ga woven or welded wire which is have the wire thickness of LockersUSA's.  In addition to standard sized tenant storage cage we also stock larger size cages up to 8′ wide and 8′ deep. Stocked with hinged doors either 3′ wide or 4′ wide with cylinder locks.  Units can be from 6′ high to 10′ high with or with out tops.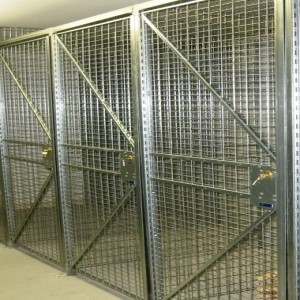 Our team provides on site or  complimentary on line layouts 
Contact us today for immediate assistance. Sales@LockersUSA.com or P(917) 701-5795.
Tenant Storage Cages Greenpoint, Tenant Storage Cages Greenpoint Brooklyn 11211, Tenant Storage Cages Brooklyn, Tenant Storage Lockers Brooklyn. Tenant Storage Cages Williamsburg, Tenant Storage Cages DUMBO, Tenant Storage Cages Borough Park, Tenant Storage Cages Brooklyn Heights.