Storage Cages East Brunswick. Proudly serving New Jersey since 1909. Tenant Storage Cages generates excellent revenue. Stocked locally. Complimentary Layouts, Professionally installed. Manufactured with 4ga welded wire in rust resistant galvanized, grey and medium gloss black. Doors stocked 3′ wide and 4′ wide x 3′,4′ or 5′ deep x 90″ high. Each door has a welded hasp for padlocks and a full height anti-theft lock bar. LockersUSA's local office provides Complimentary Layouts daily. Feel free to use the link above or contact us for immediate assistance. Built to last with the industries only 5 year warranty.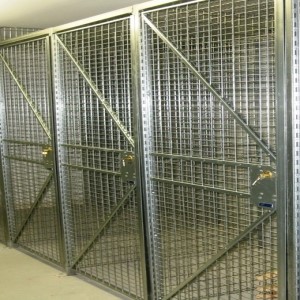 Tenant Storage Cages generate excellent revenue. Today most residential buildings, Office Buildings and Warehouses charge a monthly rental fee fro onsite storage ranging from $75.00 to $450.00 per month depending on the cage size. IE: a residential building with 60 tenant storage cages renting out for $75.00 per month on average will generate $54,000.00 per year in revenue. The ROI (Return on Investment) 7-8 months.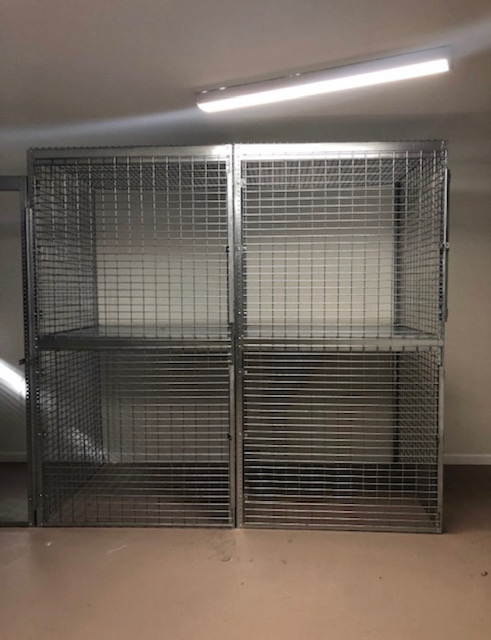 Stocked in Single Tier – Full height doors and Double Tier – Stacked doors. Storage cages are stocked in starter units (1 door and 2 sides) and add on units (1 door and 1 side) Each row begins with a starter unit, The rest of the row is built with add-on units using common sides. Most buildings attach the lockers directly to the rooms walls and floors. Backs, Floors, Tops, Shelves can be added on request.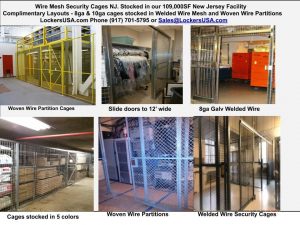 LockersUSA warehouse also stocks Security Cages, DEA Cages, Machine Guarding Safety Fence and Server cages. Doors stocked in single hinged, double hinged, single slide and bi parting double slide doors from 3′ wide to 12′ wide with cylinder locks. Interior push bars, push button locks, card swipe, mag locks can also be added to the system. Cages can be built to 48′ high quickly with our prefab modular stacking panels. Contact us today for immediate assistance.
Tenant Storage Cages East Brunswick NJ 08816, Security Cages East Brunswick, DEA Cage East Brunswick NJ, Machine Guarding Safety Fence New Jersey. Tenant storage cages delivered free to East Brunswick, Spotswood, South River, Berkeley Heights NJ 07922, Old Bridge, Woodbridge NJ 07095, Marlboro 07746, South Brunswick, Monmouth Junction, Monroe Twp 08831.