Storage Cage NYC. Serving Manhattan since 1909. Welded wire security cages stocked locally. Complimentary Layouts, Professional Installations, Free delivery. Ideal to secure inventory and equipment. Manufactured with 8ga thick welded wire or Woven Wire Partitions. Doors stocked in our 109,000sf facility from 3′ wide to 12′ wide in single hinged, single slide, double hinged and bi-parting double hinged. Our prefab modular HD cage panels allow for quick installations up to 48′ high. Most storage cages installed in NYC are 8′ high. Ceilings can be added in the same welded wire material and color. Cost can be reduced by including the rooms rear wall and or side walls as part of the cage enclosure, Lowering the amount of sides needed. Our team provides Complimentary Layouts six day a week feel free to use the form in the link above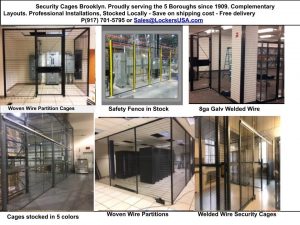 Door lock options includes cylinder locks, Welded hasps for padlocks, Programmable locks in card swipe, push button, key fob, Electric strike, Magnetic Locks, Additionally hinged doors can have interior push bars. Self closing hydraulics can be added. Call for assistance P(917) 701-5795.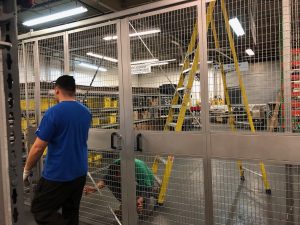 Security Cages are widely used in Hotels, Retail, Business, Logistics anywhere secure visual storage is needed. LockersUSA also stocks Security Cage Service Window, That can be installed in new or existing cages. #SW1888 Service window can be locked when closed and has a counter on the outside of the cage. Including a service window in the cage can reduce the amount of times doors need to be opened.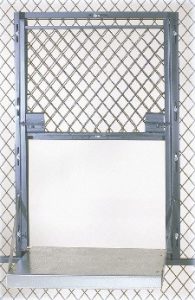 LockersUSA.com also stocks Tenant Storage Lockers, Machine Guarding Safety Fence, DEA Pharmaceutical Cages, Server Cages, Security Cages and Pallet Rack. Our NYC facility is open Monday through Friday 7AM to 5PM and Saturdays 7AM to 1PM. Phone (917) 701-5795 or Sales@LockersUSA.com
Storage Cage NYC, Security Cages NYC, Storage Cages NYC 10001,  Wire Partitions NYC, Server Cages NYC, Machine Guarding Safety Fence NYC, Storage Cages delivered daily to NYC, Bronx, Brooklyn, Queens, Staten Island.