Server Cages Trenton NJ.  Complimentary layouts, Fast Quotes, Professional installations. LockersUSA.com stocks Network server rack cages, Data Room Cages and Co-location cages locally. P(917) 701-5795. Server cage doors available from hinged to slide from 3′ wide to 12′ wide x 6'h, 7'h, 90″h and 8′ high. Locks stocked from welded hasps for padlocks, Cylinder locks, Push button, Card swipe, Key fob or interchangeable cores. additionally server cages Trenton NJ can deliver your doors with interior push bars, Electric strike locks, Magnetic locks, Automatic door closers.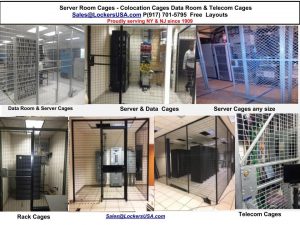 Data Room, Colo and Server Cages can be installed either 4 sided, 3 sided, 2 sided, one straight run with door or just a door to enclose the server room. Server Cages can be installed with a ceiling, above the drop ceiling and below the computer access floor for increased security. Security Cages also stocked in Trenton NJ to enclose electrical panel and equipment that power and support the network.
Server Cages Trenton NJ provides complimentary layouts six days a week From 6AM – 7PM. Feel free to use our Complimentary Layout Form or contact us for on site server – data room layouts. Our server, data room and colo cages are stocked in Galvanized, Powder coat semi gloss black, Gray and 4 other standard colors. Server Cages Hamilton NJ also stocks, installs, resets computer floors.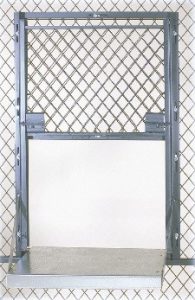 Data Room Cages, Server Cages can also have lockable service windows that allow equipment and paperwork to be passed without allowing access into the cage. Server Cage windows can be installed into your existing cage and new server cages easily. They come with an exterior counter. Manufactured with welded wire or solid steel panels. Existing server cages can easily be expanded or reconfigured as your network needs grow. Contact us today for immediate assistance. Sales@LockersUSA.com or P(917) 701-5795.
Server Cages Trenton NJ, Data Room Cages Trenton, Co-location Cages, Trenton, Server Rack Cages Trenton, Server Cage Windows, Server Cage doors, Server Cages delivered daily to Trenton  08611,  Hamilton NJ 08691, Robbinsville, Bordentown, Burlington, Monmouth Junction, Ewing Twp, Lawrence Twp, East Windsor, Princeton, West Windsor, Cranbury, South Brunswick, New Jersey.