Security Cages Swedesboro, Welded wire security cages and wire partitions stocked locally. Serving New Jersey since 1909. Secure inventory, Create perimeter barriers to prevent unauthorized access.  Free Delivery.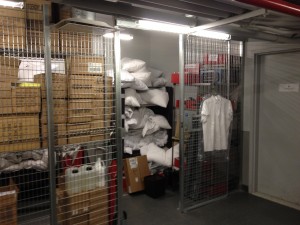 Doors stocked from 3′ wide to 12′ wide in single hinged, double hinged, single slide and double – bi-parting slide doors. Locks: Cylinder locks, Tip: if multiple doors consider keyed alike or keyed different keying. Welded hasps for padlocks, card swipe, pushbutton, key fob or we can prep our doors for your companies programmable locks or master keys. Additionally interior push bars, electric strikes, mag locks and hydraulic door closers can be added on request.
Security Cages and Perimeter fence can be built quickly to 48′ high with our modular stacking panels. Ceilings and locking service windows with exterior counter can be added. The security cages have 8ga or 10ga welded wire. The system is supported with sturdy universal posts 2″ x 2″ x 1/4″ thick x the height needed, 2″ x 6″ welded foot plates included for secure anchoring.  LockersUSA team provides Complimentary Layouts, Click the link to use our form or email us for immediate assistance. Sales@LockersUSA.com
Also stocked in our 109,00SF New Jersey Facility, Tenant Storage Cages, DEA Cages, Server Cages, Colocation Cages, Driver – Warehouse access cages, Machine Guarding Safety Fence. Service Technician Lockers, Pallet Racking.
Service Technician Lockers maximize time for Service and Repair companies.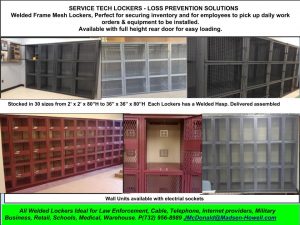 Stocked in single tier, double tier and three tier in 30 standard sizes. from 24″ wide x 30″ deep by 79-1/2″ high to 36″ x 36″ x 79-1/2″ high.  Complimentary Layouts, Manufactured with 14ga frames with 12 guage 1″ x 1″ welded wire mesh. Call for immediate assistance. (888) 963-5355.
Lockers delivered assembled: Order the lockers factory assembled. As a result you will save on labor costs for more important projects. Each door has a welded hasp for padlocks. AKA service tech lockers can have single sided welded wire mesh backs or full height rear doors for easy loading into each locker. Adding a rear loading door for preloading all units at once. As a result down time will decrease and productivity will increase.  Widely used for Employees, Service Tech, Law Enforcement and to secure inventory.
Sturdy Tops, Shelves: 14 guage galvanized sheet metal tops, shelves and floors. The floor shelf sits 1-1/2″ off finished floor. Installation is easy. Lockers can be delivered assembled. All that is needed is to unpack them, attach the to each other when in rows, and to the existing back wall and floor. Each frame is pre drilled for quick anchoring.
LockersUSA.com can deliver and install the lockers if needed. Our office is open Monday through Friday 6AM – 5PM and Saturdays from 7AM to 2PM. Contact is today for immediate assistance. Sales@LockersUSA.com
Security Cages Swedesboro NJ 08085, Technician Lockers NJ, Welded wire Lockers NJ, Dispatcher Lockers NJ, Wire Partitions Swedesboro NJ, Warehouse cages NJ, Security Cages delivered free to Swedesboro 08085, Logan Twp NJ, Penns Grove, Carneys Point, Washington Twp, Belmawr NJ, Moorestown NJ, Willingsboro, Pennsauken,