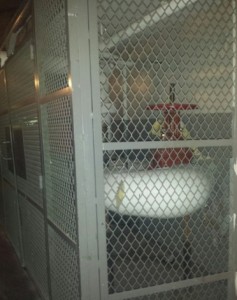 Security Cages New Jersey. Prevent theft and accidents with LockersUSA security cages New Jersey. LockersUSA security cages are ideal for securing equipment, machinery or inventory. These security cages have been installed in New York and New Jersey for various applications including hotel luggage cages, warehouse partitions, colocation cages, data server cages and others. LockersUSA security cages are also approved for use as DEA Drug Storage cages.
Doors stocked in NJ from 3′ wide to 10′ wide in single hinged, single slide, doube hinged and bi parting double slide doors. anufactured with 10-gauge welded wire, galvanized or powder coated finish in six standard colors. These woven wire comes in 1" x 1" or 1-1/2" x 3" square grid patterns and are available in a variety of widths and heights. For doors, there's a choice of either hinged or sliding doors. And there are multiple lock options including steel encased cylinders, push buttons, card swipe or biometric locks. Or we can provide interchangeable cores to match your systems or prep the doors for your existing programmable locks.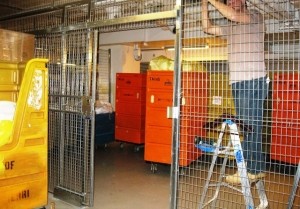 Our experienced technicians provides free layouts. Let us assist you in preventing theft and accidents with our LockersUSA security cages New Jersey (NJ).
Call us today at (917) 701-5795. Or email us at Sales@LockersUSA.com
Security Cages New Jersey,  Security Cages NJ, Wire Mesh Cages NJ, Security Cages Newark NJ 07102, Security cage partition Jersey City NJ 07306, security cage wire mesh partitions Paterson NJ 07055, security cages Elizabeth NJ 07201, Security Cage Edison NJ 08817, security cages Woodbridge NJ 07095, Wire Mesh Partitions Lakewood NJ 08701, Woven Wire Partitions Toms River NJ 08753, Security Cage Wire Mesh Partitions Hamilton Township NJ 08609, Security Cages Clifton NJ 07011, Wire Mesh Cages Trenton NJ 08601, Wire Mesh Storage Camden NJ 08101