Security Cages Edison, Welded Wire Security Cages in Edison. Free Layouts, Quick Deliveries, Lifetime Warranty, Lowest Cost. Ideal for securing inventory, perimeter barriers, Tenant Storage Cages, DEA Pharmaceutical Cages, Data Room, Co location Cages and Machine Guarding and Equipment Enclosures.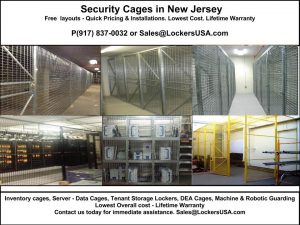 Security Cages Edison, provides quick deliveries of welded wire and woven wire in galvanized steel or 5 standard powder coat colors. Standard doors in stock in hinged, sliding or dutch double doors in hinged or sliding. Our modular design eliminates custom costly installations.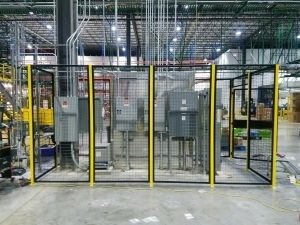 LockersUSA is a full service design, fabricator and installation company. Our 4 installation crews provide layouts and installations Monday through Saturday in the NYC Metro area. LockersUSA buys woven wire and welded wire partitions in large bulk orders passing the saving along to our customers. Stocking locally in the Edison area also eliminates expensive freight rates.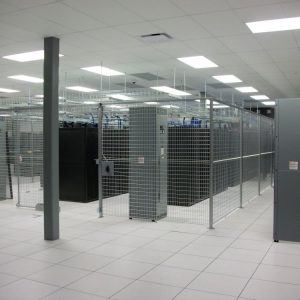 Cages can be ordered with welded hasps for padlocks, cylinder locks, card swipe, key fob, push button based on your specific needs. We can also provide our doors delivered with magnetic locks and emergency push bars. Multiple doors can be keyed different, Keyed alike or keyed different with master keys. Our framed welded wire or woven wire cages are framed with 2″ x 2″ x 1/4″ thick x the height needed posts with 2″ x 6″ welded foot plates.
To save money Cages can be attached to existing back and or side walls. Ceilings  can also be added when needed. For immediate quotes feel free to use our Complimentary Layout Form
In addition to our NJ facility, LockersUSA has stocking facilities in New York City, Astoria Queens and Williamsburg Brooklyn Our NJ office and shop is open Monday through Friday 7AM to 5PM and Saturdays 7AM – 1PM contact us now for immediate assistance. Sales@LockersUSA.com or give us a call P(917) 837-0032.
Security Cages Edison, Security Cages Edison NJ, Wire Partitions Edison, Welded wire cages Edison, Data Room Cages Edison, DEA Cages Edison, Tenant Storage Cages Edison, Machine Guarding Cages Edison, Security Cages Edison New Jersey.