Pallet Rack Long Island City Queens 11101. New Pallet Rack and Shelving in stock in Long Island City. Now you can buy new rack and shelving for the same cost as used. Your insurer prefers new over used. Equiptall stocks Tear drop and keystone type pallet rack in all weight capacities.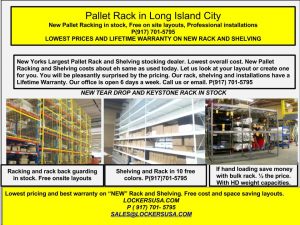 Our installations team provides complimentary on site layouts, professional installations and lifetime warranties not only on our rack and shelving but our installations too!. Save money if your hand loading your inventory ask for Bulk Rack. Bulk Rack is less than half the cost of pallet rack and holds up to 4500lbs per level. Our six install crews work in NYC, Queens, Brooklyn, Bronx, Staten Island and NJ. Contact us today for immediate assistance. Our complimentary on site layout will help you save space, costs and make sure your space is code compliant. If you need repairs or to reconfigure you existing rack or shelving gives us a call. Our team is experienced, insured. Contact us now our office is open 6AM – 6PM, Monday – Sat. Sundays until Noon. P(917)701-5795 or email us Sales@LockersUSA.com
Pallet Rack Long Island City Queens 11101, Pallet Racking Long Island City,  Pallet Rack Brooklyn NY.