Machine Guarding Brooklyn. Stocked in Red Hook,  Machine Guarding Perimeter Fence and Conveyor Safety Fence delivered throughout the 5 Boroughs. Not sure how to be code compliant? Free on site Machine Guarding Surveys.  Manufactured with Code Compliant welded wire panels and doors With all welded in either 2" x 2" 8ga or 1-1/2″ x 2-1/2″ grid openings and framed with 1-1/2″ x 1-1/2″ 14Ga steel angle frames. Machine Guarding Powder Coat Posts are 2" x 2" x 14ga with 2" x 6" welded foot plates. Machine Guarding Perimeter – Guarding is required where ever machinery is automated to prevent workers from getting close to dangerous moving parts in various industries and warehouses. P(917)701-5795
Not sure which equipment requires Machine Guarding? Contact us today for a Complimentary On-site Machine Guarding. P(917) 701-5795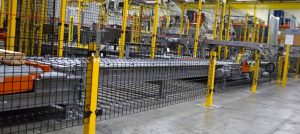 LockersUSA stocks Security Cages in Framed Welded Wire in 8Ga and 10Ga and Woven wire partitions in 10ga. Our Modular design allows for easy assembly of heights up to 20'. LockersUSA also stocks DEA Pharmaceutical Cages, Access Cages, Data Room Cages, Tenant Storage Lockers, Dispatcher Lockers, Pallet Rack Guarding, Our Install Techs can deliver and install immediately or show your staff how to install. Whichever you prefer.
Doors are Stocked in Code Compliant Hinged, Sliding, Bi-Parting double sliding in 5'3", 5'H, 7'H and 8' High.
Door Locking Options Include. Snap Locks, Cylinder Locks, Interchangeable Cores, Standard Handle, Push button and Interlocks.
LockersUSA Machine Guarding Specialists provide complimentary layouts 6 a week. Contact us now for immediate assistance. Sales@LockersUSA.com or P(917) 701-5795
Machine Guarding Brooklyn, Machine Guard Brooklyn, Machine Guarding Safety Fence NJ, Machine Guarding Brooklyn, Conveyor Machine Guarding Safety Fence Brooklyn, Robotic Guarding Brooklyn, Safety Fence Brooklyn, Machine Guarding Long Island City, Machine Guarding Queens NY. Machine Guarding daily deliveries in Brooklyn to Red Hook, Greenpoint, Gowanus, Williamsburg, Bushwick, Crown Heights, Park Slope, Brooklyn Heights, Fort Greene, Bed Stuy, Flatbush, DUMBO, Cobble Hill, all of Brooklyn.