Liquor Cages NJ. Complimentary Layouts, Widely purchased from Restaurants, Hotels in New Jersey and New York City. Complimentary Layouts, Stocked locally, Free delivery. Proudly serving the Metro area since 1909. LockersUSA's Liquor cages are manufactured with Rust Resistant Galvanized, Powder cost grey and medium semi gloss black. Liquor cages can be configured cost effectively to the space the room has available. Cost can be saved by incorporating the rooms side and or back walls. Reducing the number if cage walls needed. Liquor Cage heights range from 7′ high and up. Hinged and Slide doors have steel encased cylinder locks or welded hasps for padlocks. Locks can be keyed alike or keyed different with master keys on request.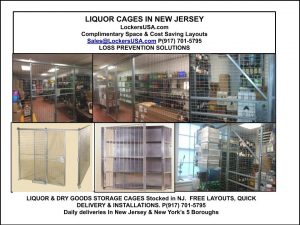 Liquor cages can be delivered and installed with ceilings in the same welded wire material and color. Interior push bars, Magnetic Locks, Programmable locks, Electric Strikes can also be included.
LockersUSA's has two stocking facilities, New Jersey and New York City, Both provide Complimentary Layouts daily. Feel free to use the form in the link above or email us for immediate assistance. Sales@LockersUSA.com
Our inventory also includes Welded Wire Security Cages, Server Cages, Tenant Storage Lockers, Welded Wire Lockers and Machine Guarding Safety Fence.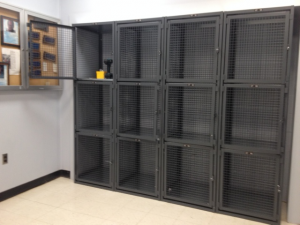 Liquor Lockers are ideal for expensive liquor. Stocked in 2 tier – stacked doors, 3 tier and 4 tier stacked doors. in 24 standard sizes. Liquor Lockers arrive totally assembled ready to use. We can bring them over and setup and anchor to the walls and floors for you or deliver and unbox for your staff to set in place.
Contact us today for immediate assistance. Our facilities are open Monday through Friday 7AM to 5PM and Saturdays from 7AM to 4PM. Sales@LockersUSA.com or Phone (917) 701-5795.
Liquor Cages NJ, Liquor Cages NJ 07036, Liquor Cages NYC, Loss Prevention Cages NJ, Liquor Cages New jersey, Loss Prevention Cages NJ, Liquor Lockers NJ.